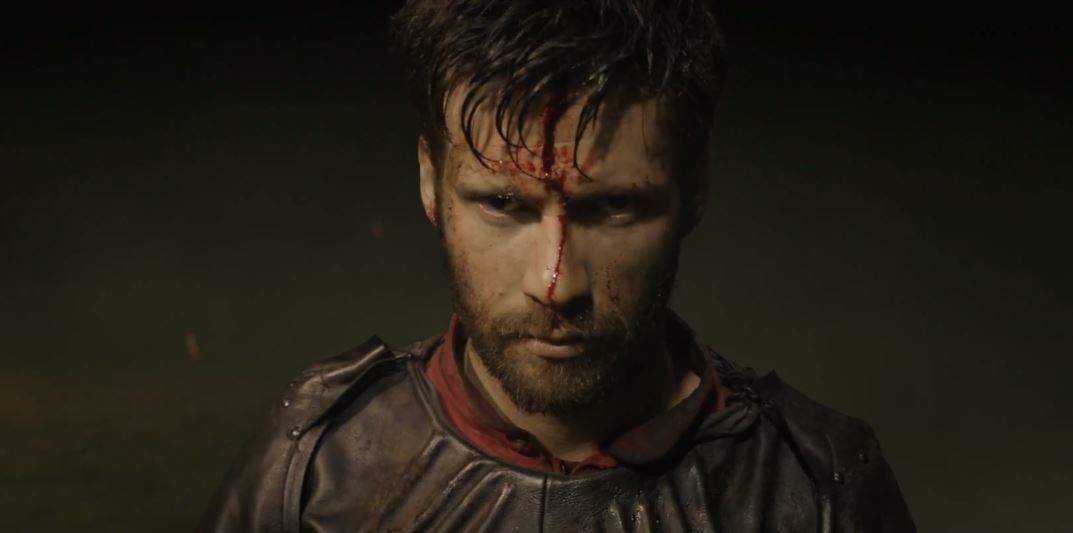 Many people will have seen William Shakespeare's plays on film — whether that's Baz Luhrmann's critically-acclaimed Romeo + Juliet or one of Kenneth Branagh's innumerable Shakespeare adaptions.
Likewise, many people will probably have seen a Shakespeare play on stage.
The 17th Century playwright remains one of the most popular writers in the English language, even 402 years after his death. The writer's works are perennial favourites, ripe for adaption by everyone from big budget movie studio bosses to school drama teachers.
Love them or hate them, Shakespeare adaptions are almost as ingrained in our culture as the themes of love, death, and money which they are about.
Old play, new tech
There are plenty of ways that director Kit Monkman's version of Macbeth is different to versions that have gone before. The most obvious is that Monkman's Macbeth was filmed entirely on green screen.
Instead of a traditional set, the action takes place with a revolving globe. The camera pans around, illuminating different rooms and the characters within them. It's almost like watching a darkened doll's house with real people inside.
How well do you
really

know your competitors?

Access the most comprehensive Company Profiles on the market, powered by GlobalData. Save hours of research. Gain competitive edge.
Company Profile – free sample
Thank you!
Your download email will arrive shortly
Not ready to buy yet? Download a free sample
We are confident about the unique quality of our Company Profiles. However, we want you to make the most beneficial decision for your business, so we offer a free sample that you can download by submitting the below form
By GlobalData
Monkman tells to Verdict:
I had co-directed a film, the only other film I'd been involved with on that level. It was a film called The Knife That Killed Me which was a 100% green screen film. It was totally experimental, and partially successful but also full of the deep flaws of something as experimental as it was. I came away from it scratching my head, but also thinking there's something really interesting about this language and thinking about the potential in other areas.

But it was a struggle to find a property that would lend itself to that. Shakespeare immediately came to mind because it was so extraordinarily effective on a blank stage. Filmmakers constantly keep trying to reinvent Shakespeare on screen. Each generation comes along with new technologies and new ideas. I thought it was really interesting because the technique we'd evolved felt very much like a hybrid between theatre and film.

It's a 17th Century play that's loosely based on 11th Century Scotland and we're making it in the 21st Century. We wanted to make a story that felt of now but also incorporated all those elements of its heritage. And, of course, being on green screen meant that we could. There's nothing to give away what your world is other than the world you create. Quite like being in the theatre.
A new Macbeth for a new age
While Monkman's Macbeth film is visually distinct it is just one of many adaptions of that particular Shakespeare play this year. In fact, including the film, there are 19 adaptions of Macbeth being staged in the UK alone in 2018. Safe to say, it's a popular play at the moment.
Arguably that's because Macbeth is Shakespeare at his best. The plot contains everything Shakespeare does best. There's sex, murder, politics, and a troupe of prophecy-making witches to boot.
Still, Monkman's version does plenty of things differently from the other major adaptions of 2018.
Millennial Macbeths
Unlike the versions being staged at the Royal Shakespeare Company and the National Theatre, Monkman's Lord and Lady Macbeth are young people.
Mark Rowley and Akiya Henry, the film's lead actors are both in their mid-twenties, a stark contrast to the RSC and NT versions which present the Macbeth couple as middle-aged. 
The age difference adds a completely different texture to this adaptions, says Monkman:
The age thing was something that mattered a lot to me. One of the things I wanted to do when we were setting out was to create an empathic or sympathetic Macbeth and Lady Macbeth. I didn't want them to be these absolute outliers of evil.

We wanted to bring them, as close as its possible, back into the fold, and for us to feel something for them. I always feel that the older you play the Macbeths the more they become political and wise. You can't really accept that they get caught up in the adrenaline of the moment.

Whereas our couple are young and very much in love and there's a sort of sense, I hope that they get swept along by the adrenaline of the possibility of the outcome. In that sense, they become more sympathetic, I think.
Double, double, toil and trouble:
In addition, Monkman's version is an outlier in terms of Macbeth adaptions because it takes pains to downplay the play's supernatural elements. While most filmmakers use the witches as a chance to show off their creative flair, Monkman excises them almost entirely.
Once again, this lends a new view to the reasons for the downfall of Lord and Lady Macbeth:
One way that we've differentiated it from a lot of the others is that we've kind of abandoned the superstition. Our witches are a coincidental element in Macbeth's life that he uses to create a meaning that suits his own ethical agenda, which is that he wants to kill the king. So he constructs a fabric that allows him to do that.

One of the main things we did was try to make the audience feel as sympathetic as they could to Lady Macbeth who is normally just played as an evil harridan. And to Macbeth, which Shakespeare makes a much better job of (in the sense that it's much easier to feel something for him).

This is a story about humanity and games we play with ourselves. It's about coincidence and storytelling.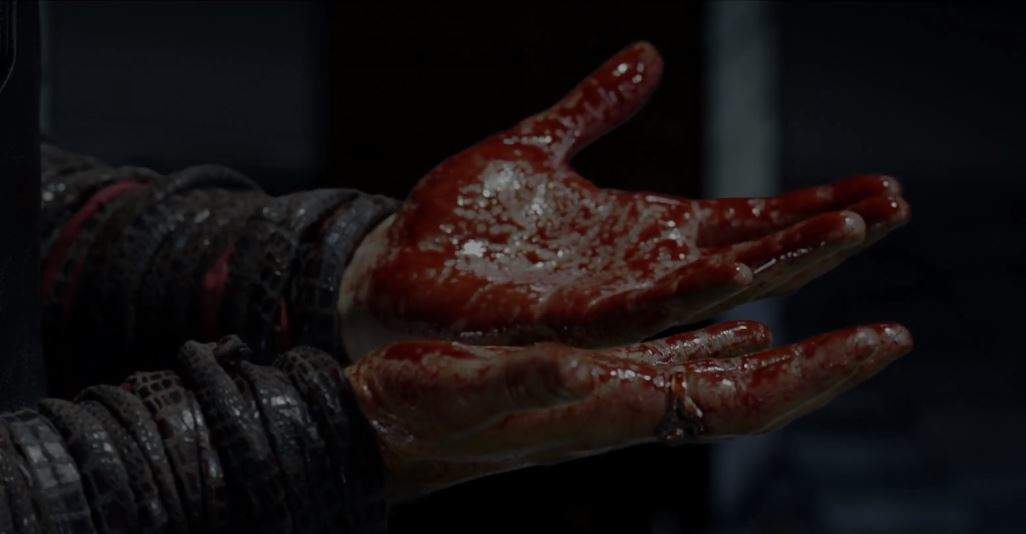 A long heritage
The notion of heritage is one which stretches all the way through Monkman's film. The movie is littered with references to other productions and adaptions of the play for those who care to spot them.
One of the most obvious though takes the form of the porter. The character exists in Shakespeare's original as the one element of comic relief. He arrives directly in the middle of the play to offer an extensive monologue about the dangers of equivocation.
In Shakespeare's day, the speech was one of the play's most overt political moments. In modern adaptions though, it has rather less to say.
Accordingly, Monkman cuts the speech and uses the porter to different ends:
He is like a stage manager, he's very clearly of another time and place from the action.

He watches films throughout. He's in his little porter's lodge watching old black and white movies. When you see him he's watching the earliest extant version of Macbeth on film. It's a 1911 Italian version.

And we did that to remind people that there's this heritage of filmmaking that stretches back 100 years or more which is part of a theatrical tradition that stretches back even further. You can't read or see Macbeth out of that context.

There's a scene early on where the witches hand this film canister. There's a sense implied that just like the prophecy that Macbeth is given, we're being given this film canister; we know what Macbeth has to do, we know what Lady Macbeth has to do; the prophecy is already inherent in the culture of knowing about Macbeth. We have to accept all that and embrace it rather than pretend that this was a story that was going to surprise you in what happens to the participants.
Making Shakespeare make sense
Of course, one of the most striking things about this version of Macbeth is how much sense it makes. Not in terms of the rightness of seeing Macbeth brought to life like this (though an argument could be made that it makes a lot of sense to present the play in this way) but in the sense that Shakespeare's verse is exceptionally comprehensible.
That's partially down to the great acting. However, perhaps the real reason is because Monkman has managed to bridge the disconnect found in almost all Shakespearean film adaptions:
I suppose what we're trying to do that's so fundamentally different here is that we're trying to re-engage with the theatrical. One of the reasons I wanted to do Shakespeare is because for me, Shakespeare on film, no matter how well it's done, has a slight disjoint. And the disjoint is that no one speaks like that. Not only does no one speak like that now, but no spoke like that then. Shakespeare doesn't write naturalistically.

So when you put a few burly men on a Scottish moor, all speaking iambic pentameter to each other, there's always a voice in the back of your head saying 'this just feels wrong'.

Whereas if you put them into an environment that's its own world then you forget. The language is the language and its extraordinary and rich and poetic and beautiful and it doesn't clash with anything. So that was the fundamental change, I would suggest. This is an attempt to use very new technology to re-engage with a theatricalisation of a cinematic experience of Shakespeare.
Overall, Monkman's Macbeth is a powerful new way of retreading old boards. Still, this adaption stands out as one of the most visually and tonally unique works of film in Shakespearean canon.
Macbeth is available to watch on many video-on-demand services. The full list is available here