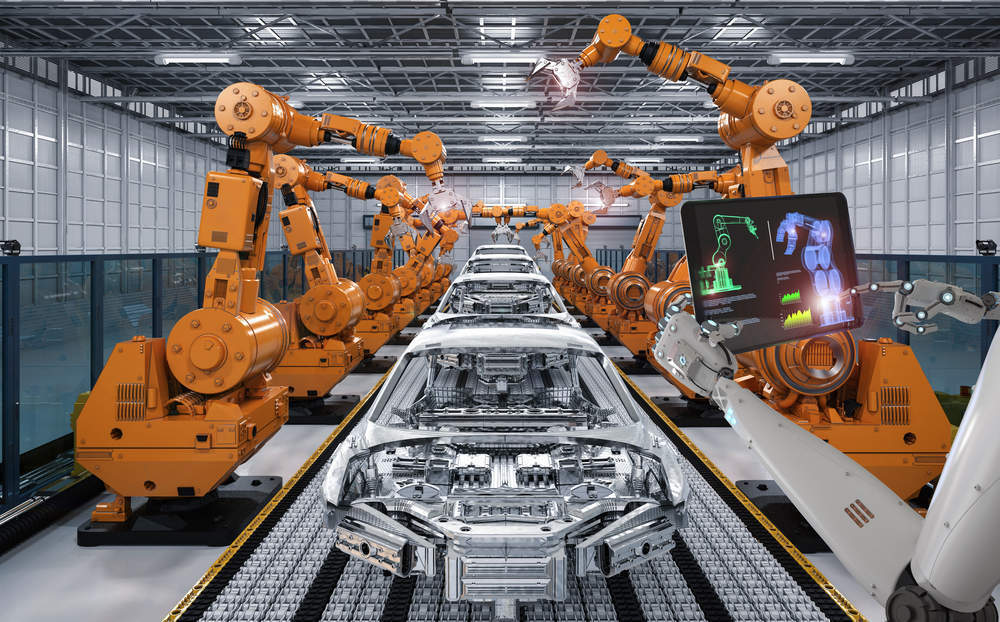 AI and its use in the car manufacturing industry is key for survival in this highly competitive environment.
Current solutions in play with the major global car manufacturers, such as Toyota, are undergoing essential change as these networks need to adapt to support the future demands of autonomous cars and intelligent robotics in the factory.
In order to survive in a highly competitive manufacturers such as Toyota and Volkswagen will need high-speed networks that are capable of supporting AI, predictive maintenance, and hordes of connected sensors.
Strain on the systems 
Real-time data feeds coming in from countless sensors in a connected world place massive demand on computing resources, data storage, and bandwidth.
Thus manufacturing companies are turning to software-defined networks and digital platforms to take advantage of the opportunities and overcome challenges.
GlobalData research has shown that manufacturing companies need to keep the following three areas firmly in check to strike a finely tuned balance between lowering costs but at the same time adopting technology in networking and IT solutions to help grow the business:
Data analytics for real-time predictive maintenance in robotics
Real-time billing integrated with warehousing and higher accuracy supply chain systems
Control and reduction of costs and complexity; with centralised management enabled by software-defined networks and the virtualisation of IT
The above bullets are a distillation of dozens of viewpoints shared with GlobalData by manufacturing company IT leaders during an enterprise survey (Source: GlobalData Enterprise Survey November 2017) to capture best practise and thought leadership opinions for digital IT and network transformation programs.
The age-old conundrum: cost-savings vs capital investment
Keeping a tight lid on costs remains a healthy obsession across manufacturing, and this is no different in the automobile vertical.
A reduced cost base across operations–including the allocated spend on IT and networks–will always be a high priority focus. However, the car companies recognise that an initial cash outlay is needed to embark upon IT and network digital transformation to harness rapidly developing technology areas such as artificial intelligence (AI), machine learning (ML), connected things, cloud, and Software-defined Wide Area Networks (SD-WAN).
Having a lean operations cost-base is not enough. Car manufacturers also need to deploy agile IT and networks in order to achieve differentiation versus their competitors. Manufacturers have realised this and are taking initiatives to make sure they can harness technology and innovation to maintain market leading positions.
To illustrate this point, the Toyota Research Institute operates venture capital subsidiary 'Toyota AI Ventures', which is a Silicon Valley California-based VC entity whose purpose is to seed start-ups in the domains of cloud, AI, autonomous mobility, data, and robotics.
Meanwhile the VW Group has partnered with video and gaming company Nvidia and opted to leverage the latter's Drive IX Intelligent Experience computing platform. VW has publicly stated that its AI drive maintains the goal of supporting 'intelligent co-pilot capabilities'. VW believes that a wide variety of capabilities based on facial recognition tech can be applied, from securely unlocking vehicles and control via gestures, to voice-operated operations, plus vital safety based upon eye-tracking for warnings against careless driving.
Toyota and VW aren't alone, more car manufacturers have well-backed AI agendas underway, including Kia, Daimler, BMW, and Hyundai. Initial projects are somewhat humble focusing in on features for infotainment, ergonomic convenience and safeguarding against crashes, but the future is connected autonomous automobiles, and the networks underpinning such capabilities will need to be up to the challenge.