Alphabet — the parent company of US search giant Google — has reported strong growth in the second quarter, with revenues up 21 percent compared to the same period in 2016 at $26bn.
The record fine imposed by the European Commission (EC) last month meant profit was some 40 percent lower than it would have been without the fine.
After a seven-year investigation, the EC ordered Google to pay a record-breaking €2.4bn ($2.7bn) fine for manipulating search results and promoting its own services.
Alphbet has been working hard to diversify its revenue stream away from its reliance on search, which still made up some $22.7bn of its quarterly revenue, up 18 percent year-on-year.
Google chief executive Sundar Pichai — who was yesterday elevated to Google's board of directors, increasing his hold over the company — boasted YouTube now has about 1.5bn monthly viewers, who watch an average of 60 minutes a day.
Google has been investing in areas such as driverless cars, cloud services and life sciences — all brought together by its developing research into artificial intelligence and machine learning.
Despite the strong quarter analytsts were disappointed by a fall in the cost per click — that is how much money Google makes with every ad click — dropping by 23 percent year on year.
Shares dropped by almost three percent in after hours trading in New York last night.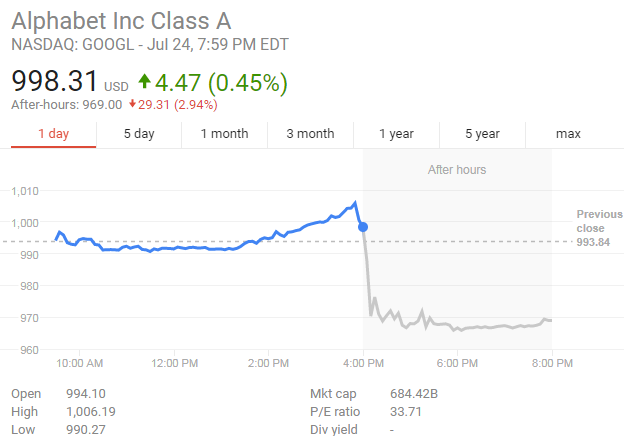 Ruth Porat, Alphabet chief financial officer, said:
With revenues of $26bn, up 21 percent versus the second quarter of 2016 and 23 percent on a constant currency basis, we're delivering strong growth with great underlying momentum, while continuing to make focused investments in new revenue streams.