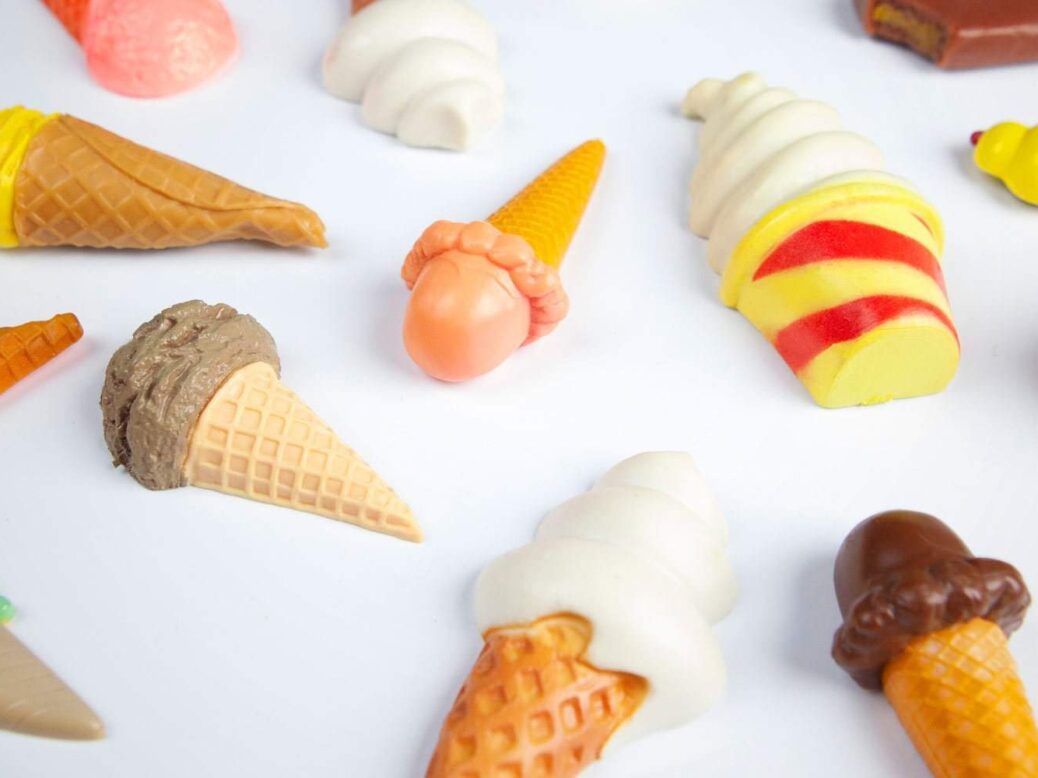 Scoop: The Wonderful World of Ice Cream, a three month long ice cream exhibition forming a temporary museum, will arrive in London this summer.
The museum is the brainchild of events company, Bompas & Parr, who promise it will be a celebration of the past, present and future of the dessert. Exhibits at the festival will include ice cream weather, the neuroscience of the ice cream and an exploration of the darker side of dessert.
What will be on show at the exhibition?
The central part of the festival is a collection of 14,000 items of ice cream paraphernalia. This includes vintage ice cream-making equipment and service-ware.
For art lovers there'll also be examples of advertising art and music from ice cream sellers over the years. The collection is the property of Robin and Caroline Weir, authors Ice Creams, Sorbets and Gelati: The Definitive Guide.
The exhibition aims to explore the history of ice cream in full.
What's in the exhibition?
After a short video-presentation guests enter into an freezing ice box to learn about the history of shipping ice from polar regions to the rest of the world. Robin Weir told Verdict that this was an incredibly efficient method of bringing ice cream to the rest of the world. He cites a story of ice being brought from Norway to Calcutta with so little wastage that some had to be given away to locals.
Leaving the ice box, guests see some of the Weirs' collection, including the oldest mechanical ice cream maker in history, and a vast collection of glass 'penny licks'. These were small glasses in which ice cream was sold before cones. Eventually they were outlawed due to their role in spreading tuberculosis after not being properly cleaned.
Leaving that section, guests pass through a corridor of ice cream scents. Visitors can push a button on the wall to smell popular ice cream flavours.
The next section gives visitors a chance to make their own ice cream in the style of Agnes B. Marshall. In Victorian times she was known as the Queen of Ices due to her pioneering advances in ice cream creation. Marshall patented an ice cream-making machine and also wrote several cookbooks about how to make ice cream. She was also seriously ahead of her time, suggesting the use of liquid nitrogen to make ice cream as long ago as the 1800s.
Guests can make their own ice cream by mixing flavours in handheld ice cream mixers. These need to be shaken for at least three minutes so it's quite a work-out!
The next room houses ice cream art and advertising. There's also a huge Rube Goldberg-style sprinkle fountain. Those who love Hundreds & Thousands are sure to be impressed.
Is there ice cream to try?
In addition, for festival-goers clamouring to try some ice cream themselves, there'll be a few extra special treats.
For starters, Ben & Jerry's are sponsoring an brainwave visualiser. Visitors can put on a headset and see their brainwaves displayed on a wall, before trying some ice cream. After a spoonful, the brain activity lights up, clearly showing how excited we all get after trying ice cream.
Finally, there's a chance to try the world's first glow-in-the-dark ice cream in a UV tunnel. Unfortunately the effect isn't quite as impressive as we were led to believe, but it's very good ice cream anyway.
On the way out there's a gift shop and Conehenge, the on-site café. Here guests can try some of Agnes B. Marshall's original ice cream flavours such as candied fruit, cardamom and vanilla, and daffodil. If those tickle your fancy you can also buy a facsimile of Marshall's original ice cream recipe book.
Given Bompas & Parr's track record (which includes a human-flavour cinema snacks and a luxury Christmas dinner of the future) there are sure to be a few additional surprises too.
The venue for the exhibition is Gasholders London, just a ten minute walk from Kings Cross station. It opens on 3 July and ultimately closes on 30 September.
Tickets are already available on the official website here. Guests are encouraged to pre-book tickets to ensure entry to a particular session. However, guests can purchase tickets on the door, subject to availability.
The British Museum Of Food:
Scoop: The Wonderful World of Ice Cream is just the latest in a long line of events hosted by Bompas & Parr under the auspices of the British Museum Of Food.
This is an extensive project from the company. Originally set up at Borough Market in London in 2016, the British Museum Of Food was a temporary exhibition about food and drink. Though it eventually closed in January 2016, the project continued.
It reappeared in early 2018, founding Film Food Festival. This week-long film festival at the Mondrian hotel on the Southbank focused on films about food.
Scoop: The Wonderful World Of Ice Cream is the first major installation since the original Borough Market opening.
Ultimately, the aim of the British Museum Of Food is to set up a permanent collection somewhere in London.
https://www.instagram.com/p/Bjpu-khg__G/?taken-by=bmof_london