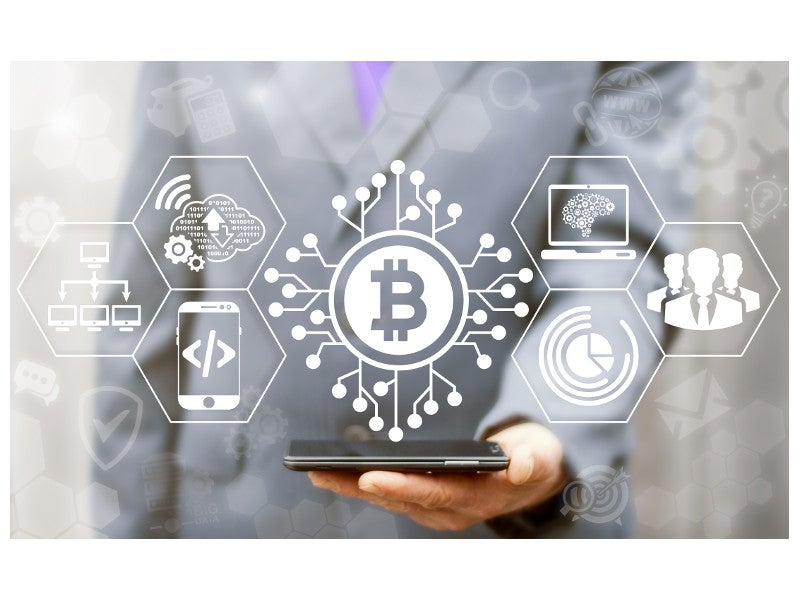 GlobalData research has found the top blockchain influencers based on their performance and engagement online.
Using research from GlobalData's Influencer platform, Verdict has named ten of the most influential people in blockchain on Twitter during the quarter.
Biggest influencers in blockchain: The top ten
A bitcoin advisor and evangelist, Pierre Rochard heads the Bitcoin Advisory, New York. He has been writing and researching on the subject since 2013. He is also the co-founder of the Satoshi Nakamoto Institute (SNI), a website that offers free literature regarding bitcoin and its evolution and also provides crash courses in bitcoin.
He produces and co-hosts the Noded Bitcoin Podcast, along with Micheal Goldstein, the president of SNI. The podcast addresses the bitcoin community, delivering news, events, and commentaries. Pierre holds a master's degree in accounting from the University of Texas at Austin.
Twitter followers: 60,422
GlobalData influencer score: 100
How well do you
really

know your competitors?

Access the most comprehensive Company Profiles on the market, powered by GlobalData. Save hours of research. Gain competitive edge.
Company Profile – free sample
Thank you!
Your download email will arrive shortly
Not ready to buy yet? Download a free sample
We are confident about the unique quality of our Company Profiles. However, we want you to make the most beneficial decision for your business, so we offer a free sample that you can download by submitting the below form
By GlobalData
"The conviction to HODL: I didn't get shaked out by Jihan and his bcash thing. I just swiped a bunch of his bitcoins. Like, lots of them. This how this game is played, we're at war, taking territory on the Bitcoin blockchain, measured in satoshis."

A must-listen interview 👇 https://t.co/7HxAOuqkF7

— Pierre Rochard (@pierre_rochard) September 25, 2019
A blockchain consultant, Max Keiser is the host of the Keiser Report on RT News, an international news website. He discusses the details behind some of the major financial crises across the world.
Max is also the founder of Heisenberg Capital, a venture capital firm focussed on crypto investments. Led by top cryptocurrency influencers, the company provides bitcoin advice and consulting to technology companies and business ventures.
Max Keiser comes with a rich background in banking, brokerage, and financial technology innovation and is a frequent speaker on the subject at international conferences. He holds a BA degree from the New York University.
Twitter followers: 228,420
GlobalData influencer score: 94
Bitcoin Hash Rate to Hit a Whopping 100 Quintillion for the First Time – Bitcoin & Blockchain news https://t.co/QN28V0Suaw

— Max Keiser (@maxkeiser) September 9, 2019
A fintech investor, Ari Paul is the CIO and managing partner at BlockTower Capital, a cryptocurrency investment firm based in New York, US. He has a background in finance and has been inducted into roles such as derivative trader, risk specialist, and portfolio manager.
Ari was recently appointed as advisor to Hedera Hashgraph, a platform that deals in defining the security boundaries for distributed ledger technology (DLT). He will be working with the company on the next phase of development. Ari is a graduate of the University of Pennsylvania and holds an MBA from the University of Chicago.
Twitter followers: 139,117
GlobalData influencer score: 71
In every large group of people that I disagree with (whether politics, religion, or crypto), there are individuals both smarter and kinder than me. I believe in attacking ideas, not the people who hold them. Attack people for their actions, not beliefs.

— Ari Paul ⛓️ (@AriDavidPaul) September 29, 2019
Adam Back is the CEO and co-founder of Bockstream, a blockchain technology company that provides funding for the development of bitcoin and the distributed ledger technology (DLT). It also creates cutting-edge crypto-financial infrastructure.
Adam is also a cryptography consultant specialising in cryptography protocols, bitcoin, protocol design, distributed file systems, p2p systems, and security architecture. Born in London, UK, Adam holds a PhD degree in computer science from University of Exeter, UK.
Twitter followers: 183,230
GlobalData influencer score: 70
This apparently is what happens when you trade your Bitcoin for Bcash

BTC Lambo v12 6 litre
BCH SEAT 3cyl 1.0 litre pic.twitter.com/zqzEVMCrT7

— Adam Back (@adam3us) September 5, 2019
An entrepreneur and writer, Ryan Selkis, is the founder and CEO of Messari, which provides weekly notes and analysis on the crypto industry. Prior to Messari, Ryan was the managing director of CoinDesk, a news site covering bitcoin and digital currencies and the director of growth for the Digital Currency Group, a venture capital firm focussed on digital currencies.
Ryan has been writing for a popular blog called 'Two-Bit Idiot' that includes news, notes, analysis, and ideas pertaining to the bitcoin industry. He has graduated from Boston College, Massachusetts, and has an MBA from the MIT Sloan School of Management, Massachusetts.
Twitter followers: 91,850
GlobalData influencer score: 69
Two USV partners weighed in on crypto today.

IMO, @albertwenger's was closer to the route of the problem.

Is Ethereum bootstrapping or reffing out with its insular focus? https://t.co/uRtNsOqUKl

— Ryan Selkis (@twobitidiot) September 5, 2019
An advocate of the distributed ledger technology, Erik Voorhees founded the ShapeShift community, which facilitates the exchange of a range of digital currencies including bitcoin, Monero, Zcash, Dash, Dogecoin, and Ethereum.
Erik openly supports the distributed ledger technology (DLT) and its regulation through conferences and meetings. He has also been successful in founding bitcoin companies such as Coinapult, an online crypto wallet that allows users to store and trade their bitcoins through emails and text messages and offers a protective service called Locks to save users' earnings. Erik has a BA from the University of Puget Sound.
Twitter followers: 358,156
GlobalData influencer score: 67
If you bought Bitcoin this summer at $12,000 because it was going up, and you're selling it now at $9,700 because it's going down, you're doing it wrong. "Hodl" isn't just a cute meme… it's wisdom from the elders who have been here before.

— Erik Voorhees (@ErikVoorhees) September 24, 2019
An enthusiastic cryptographer, Charlie Lee created the Litecoin, one of the popular altcoins or digital currencies. Litecoin facilitates faster transactions and greater supply limits, enough to fetch a space in the crypto industry.
Lee studied computer science at the Massachusetts Institute of Technology and started his career as a software engineer. Prior to Litecoin, Lee worked as Director of Engineering for Coinbase.
Twitter followers: 835,233
GlobalData influencer score: 66
Amazingly, you can now buy Litecoin on https://t.co/VKB9ZGgQk8!https://t.co/hGEozR9boc

I wonder why they didn't name it Litecoin Core though? 🤔😂 pic.twitter.com/I0AvIHrFun

— Charlie Lee [LTC⚡] (@SatoshiLite) September 4, 2019
8. Neeraj K. Agrawal (@NeerajKA)
A blockchain enthusiast, Neeraj K Agrawal is the Director of Communications at Coin Center, a non-profit research and advocacy centre addressing issues related to cryptocurrency. Coin Center publishes policy research contributed by eminent experts and scholars to educate the media and policymakers about the advantages of cryptocurrency and blockchain technology.
Prior to Coin Center, Neeraj worked as a corporate communications manager for VeriSign, which provides a range of internet infrastructure services. He has a BA in policy studies and political science from Syracuse University.
Twitter followers: 69,858
GlobalData influencer score: 66
"This is really opening new doors for us," said Sanchez, who uses Bitcoin, the most well known cryptocurrency, to purchase parts not available new in Cuba from an online Chinese store.

How bitcoin is helping people survive in Cuba https://t.co/upTE3pvlIu

— Neeraj K. Agrawal (@NeerajKA) September 12, 2019
A blockchain influencer and cryptographer, Nick Szabo is currently serving as the business development manager of PenPath, a marketing intelligence agency. He previously worked as a consultant at Bang Media, a creative and marketing agency.
A University of Missouri–St. Louis (UMSL) graduate, Nick is a firm supporter of the technology and believes that digital currencies will be the refuge for most unstable economies and sanctioned countries in the near future.
Twitter followers: 243,205
GlobalData influencer score: 66
Such confidence in Bitcoin is splendid, but a 94,500 BTC tx tempts fate. If recipient can make that much from reversing the tx, they can afford to run a 51% attack for more than 40 days. Big if & very visible, but security here depends more on trust & less on the protocol itself. https://t.co/KQjH8RiAck

— Nick Szabo 🔑 (@NickSzabo4) September 6, 2019
10. Jameson Lopp (@lopp)
Jameson Lopp is the Chief Technology Officer at Casa, a cryptocurrency start-up. Some of Casa's popular products include the Casa Lightning Nodes, a device that helps users tap into a scaling solution called the Lightning Network, which is used for trading and storing bitcoins.
Jameson is also the creator of Statoshi.info, a site that provides real-time statistics on Bitcoin nodes.
Twitter followers: 211,068
GlobalData influencer score: 65
Bitcoin isn't a get rich quick scheme, it's a don't get poor slowly scheme.

— Jameson Lopp (@lopp) September 11, 2019