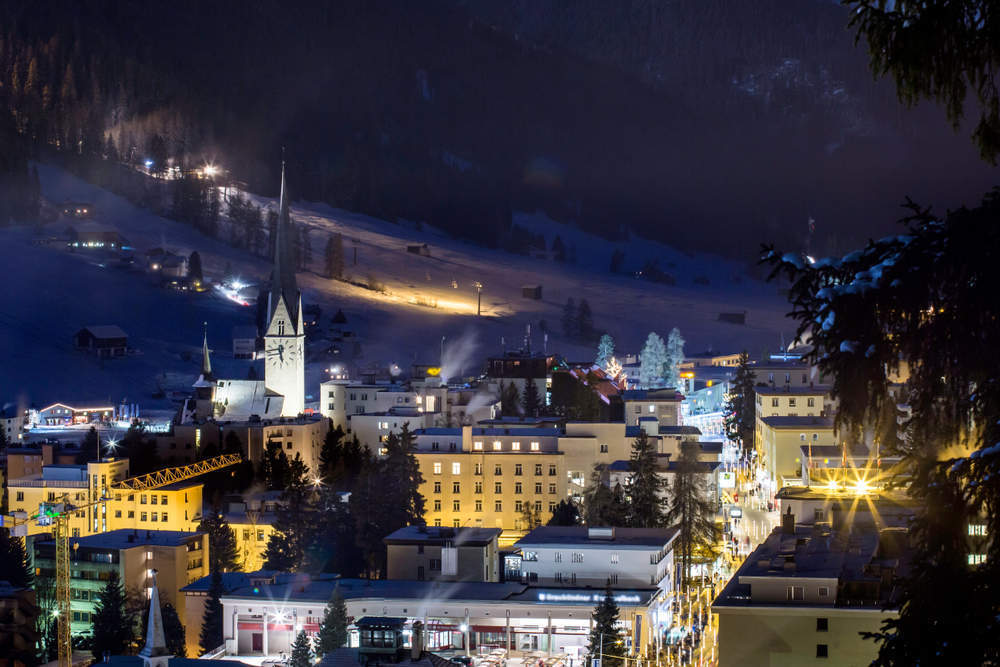 German chancellor Angela Merkel told the World Economic Forum (WEF) in Davos today that isolationism and protectionism were not solutions to the world's economic challenges.
Speaking one the second day of the economic symposium Merkel said that Europe should not complain when other countries, like the United States, overhaul their tax systems but instead respond with reforms of its own.
Merkel pointed to efforts by France and Germany to forge a common corporate tax regime and said European countries would need to cope with a more competitive tax environment.
US president Donald Trump, arriving in Davos tonight, cast a long shadow over today's proceedings.
Trump will tomorrow deliver a keynote address where he's expected to advance his America First protectionist policy — and potentially step up his blossoming trade war with China.
Merkel also said she was open-minded about what kind of partnership the European Union would develop with the UK after it left the trading bloc in March 2019, but warned there would be no compromise on the EU's core principles.
Here's a run down of six of the biggest talking points from Davos day two.
1) Macron tells the global elite to invest, share and protect
French president Emmanuel Macron — dubbed in France the president of the rich — called on the  wealthy to focus on the common good, social cohesion, health, education, climate and the fight against inequality.
The 40-year-old leader — who has stabilised his popularity rating in France at around 50 percent after it took a post-election honeymoon dive late last year — repeated his plea to giant tech companies Google, Facebook, Apple, and Amazon to pay a fair share of taxes as they displace traditional industries as the biggest sources of revenue in the global economy.
2) Nadella calls for more computing power
Microsoft chief executive Satya Nadella spoke on a panel about the automation of healthcare and though he is is positive about how technology will change healthcare, he warned the world is "running out of computing capacity".
Microsoft is focusing a significant resources on developing quantum computers in order to solve issues such as climate change. Nadella said faster computers are needed to solve these difficult problems.
3) Beale warns that boring economics caused Brexit
Insurance giant Lloyds of London chief executive Inga Beale has warned that the focus on dry economic measures such as GDP has helped to create the backlash that led to Brexit.
Speaking to CNBC at the World Economic Forum, Beale said policymakers need to think differently about how they measure the economy.
I do remember, when we were going through the campaigning around Brexit, in the UK, we, as businesses, were talking about GDP. Most of the members of the public don't even know what that means, you know, they, it doesn't relate to them. And there's a definite feeling that they're not being included, and they want to challenge the, you know, the 'as is', at the moment. They really want to go out and say, 'I'm not happy with this status quo. You're not hearing me. You're not respecting me. I'm not included.' And when we talk about GDP, that doesn't feel very inclusive for them.
4) Jimmy Wales demands journalism and social media get over their advertising addiction
Current advertising-led business model of social media companies and news publishers needs to change if we are to curb the spread of fake news, according to Wikipedia founder Jimmy Wales.
Speaking on a panel discussing fake news, Wales said that advertising is "incredibly destructive" for journalism, prioritising the wrong incentives and encouraging click-bait style news articles.
5) For Alibaba's Jack Ma a trade war means real war
Alibaba founder Jack Ma this afternoon attacked critics of globalisation saying "globalisation cannot be stopped".
Ma — who's worth some $47.2bn — warned that if countries try to stand in the way of globalisation it could result in war.
Ma said:
No one can stop globalisation, no one can stop trade. If trade stops, the world stops. Trade is the way to dissolve the war, not cause the war.

Whether you worry about it the world will be hugely changed in the next 30 years. If there will be a war then it should be a war against disease, environmental pollution and poverty, rather than against ourselves.
Ma was speaking on a panel about the future of ecommerce alongside Roberto Azevêdo, director-general of the World Trade Organization, and Mercedes Aráoz, the prime minister of Peru.
6) Former British prime minister David Cameron reveals what he really thinks of Brexit… (it's bad but not as bad as he feared)
The man who called the EU referendum says what he really thinks about Brexit…

In the corridors of the @wef​, @David_Cameron​ is overheard speaking with business and political leaders from around the world – and they're all asking about Brexit. #WEF18 pic.twitter.com/z1pcbUJ87A

— Channel 5 News (@5_News) January 24, 2018