Dixons Carphone's share price fell over 25 percent this morning after the company was forced to cut its profit forecasts for the year.
Trading was suspended not long after 8am London time due to the sudden drop, however it has since been resumed.
Timeline for business

Dixons Carphone trading is halted after shares fall as much as 25% https://t.co/tvHlLYNR9M pic.twitter.com/vzJbEG5vr6

— Bloomberg (@business) 24 August 2017
The retailer's full-year pre-tax profit forecast was expected to be around £495m, yet it has said this will be between £360m and £440m instead.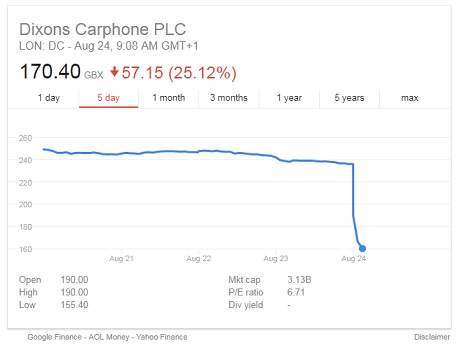 Why has Dixons Carphone downgraded its forecast?
The company, which owns Currys, PC World, and the Carphone Warehouse, blamed this fall on the current mobile marketplace.
As a result of currency fluctuations, since the UK voted to leave the European Union last year, new devices are becoming more expensive and consumers are holding on to their handsets longer.
For instance, the new Samsung Galaxy Note 8 which was announced yesterday will retail at £869 in the UK and it is rumoured that the next iPhone will break the $1,000 barrier.
In addition, the removal of roaming fees in Europe under an EU directive is expected to have a negative impact on the group of between £10m and £40m this year.
Inflation has played a part too. Earlier this year, Dixons Carphone's shares fell by a third as investors were concerned that the growing inflation would have an impact on UK consumers.
The State of Technology This Week
There has to be some good news
On the plus side, its electrical retailing business in Britain, the Nordics and Greece continues to perform well.
The group saw like-for-like sales up six percent in the 13 weeks to July 29.
What has the company said?
The group's chief executive, Seb James, said in a statement:
In all of these markets, we have seen growth in revenues, market share, and profitability with overall product margins remaining flat in electricals. However, over the last few months we have seen a more challenging UK postpay mobile phone market.