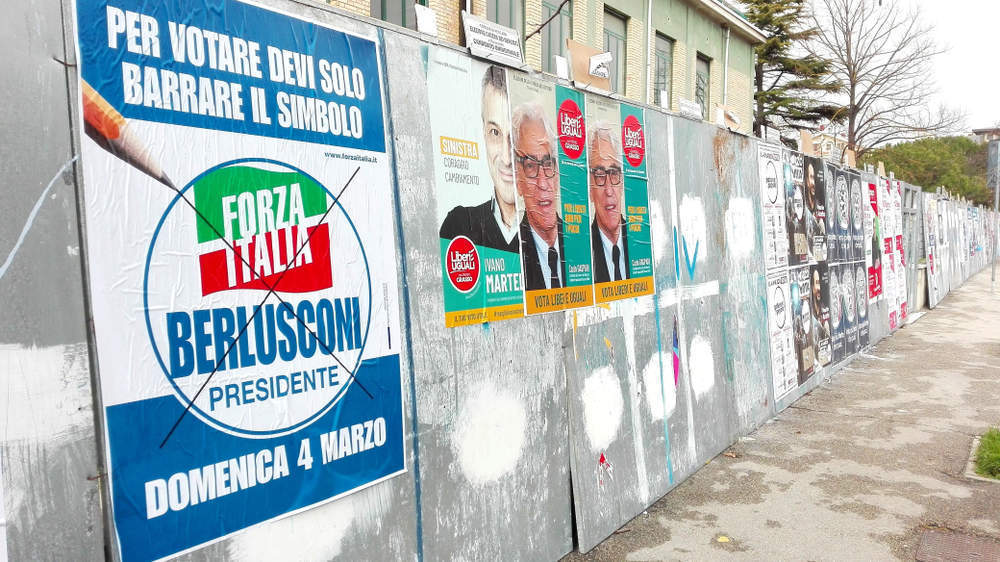 Italy's election is forecast to produce a hung parliament and its the most contentious vote the country has faced in years.
The result is expected to be known by Monday morning but it could mean weeks of economic and political uncertainty for the Euro zone's third-largest economy and the rest of Europe.
The economy, immigration, youth unemployment have all been major issues during campaigning with the parties trying to prove to voters they can return the country to its pre-crisis success.
Read more: Italians living abroad are worried their postal votes are getting hijacked
The parties in the running are:
Democratic Party, led by Matteo Renzi

Forza Italia, led by Silvio Berlusconi

Lega Nord (the League), led by Matteo Salvini

Five Star Movement, led by Luigi Di Maio

Free and Equal, led by Pietro Grasso
There are four possible — and realistic — outcomes though none are certain. Here's a look at what the most likely outcomes will mean.
1) No majority
If no single single party or coalition wins a parliamentary majority there will be gridlock.
Most recent polls showed the right-wing coalition with 38% (with 17% going to Forza Italia 13% to Lega Nord), 28% for Five Star Movement, and 26% to the centre-left coalition led by the Democratic Party.
However, many were still undecided. If this scenario bears out there then there will be a hung parliament.
If there is no majority on Monday morning then prime minister Paolo Gentiloni will remain in power with parliament meeting again on 23 March to select new speakers for the lower House and the Senate.
The parties will then negotiate and attempt to find someone who could command a majority, under the direction of President of the Republic Sergio Mattarella.
If they are unsuccessful new elections could be called — and there could be changes to the electoral system to a more winner-takes-all contest.
Mattarella's goal is to find a government that can get the 2019 budget through parliament before the end of 2018.
2) A right-wing coalition
A right-wing coalition would bring together four parties, the biggest of which is Berlusconi's centre-right Forza Italia, followed by the far-right League.
If the coalition wins a majority Berlusconi and League leader Salvini have agreed that whoever comes first of the two parties will lead the government.
However, Berlusconi is banned from public office due to a tax fraud investigation.
He's named the president of the European Parliament Antonio Tajani as his choice in his stead but Tajani has not said whether he'd give up the presidency.
Tajani tweeted he had told Berlusconi he was ready "to serve Italy".
Ringrazio Il Presidente Berlusconi per il suo atto di stima nei miei confronti.Ho dato a lui,stasera,la mia disponibilità a servire l'Italia.Ora ogni ulteriore decisione spetta ai nostri concittadini ed al Presidente della Repubblica

— Antonio Tajani (@Antonio_Tajani) March 1, 2018
3) A grand centre coalition
This is potentially the best scenario for stocks in Italy and markets in Europe.
This would involve a broad coalition that includes the Democratic Party, as well as parts of the centre-right alliance such as media tycoon Silvio Berlusconi's Forza Italia party.
This has been described as "the least-worst option", by Roberto D'Alimonte, a political science professor at Rome's Luiss University.
Unfortunately, it's one of the most unlikely outcomes.
4) Populists take power
Italy's biggest parties have all ruled out an alliance with the Five Star Movement, co-founded by comedian Beppe Grillo.
Oxford Economics analysts give the Five Star Movement no more than a one in 20 chance of forming a populist-led coalition government.
However, the League's Salvini said in October that if the center-right didn't win a majority, he'd call Five Star co-founder .
Both parties want to scrap a pension reform which raised the retirement age, overhaul EU treaties and have ditching the euro as an option.