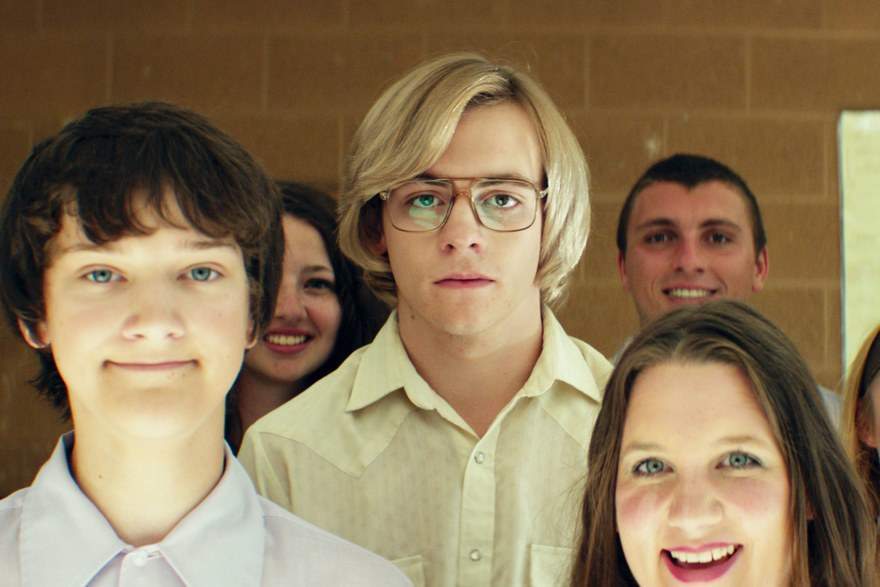 There's no getting around the fact that My Friend Dahmer is a pretty hard sell.
It's a movie about real life serial killer Jeffrey Dahmer who confessed to the murder of 17 people in 1991. Based on that information most audiences would assume they'd be watching a horror or thriller. Those expectations are subverted the minute the film starts playing.
Based on a graphic novel written by a young Dahmer's best friend, My Friend Dahmer is fronted by former Disney Channel star Ross Lynch as Dahmer himself the film is a high school comedy mixed with a tragic character study.
Set in 1978, the film chronicles Dahmer's final year at high school. There are numerous classic high school tropes at play; audiences see Dahmer discovering his sexuality, finding a group of (somewhat insincere) friends, struggling to find a date for prom, and navigating a complex relationship with his warring parents.
On the other hand, the film is never afraid of showing Dahmer's dark side. He collects dead animals from the roadside and boils them in acid, he begins drinking heavily, he fantasizes about sleeping with corpses.
The duality might make for an uncomfortable fit. However, thanks to director Marc Meyers' deft work the film gives a balanced, nuanced perspective of a young serial killer.
After having toured at film festivals around the world, the movie finally launched in the US in November. It quickly became a sleeper hit. More and more cinemas opened the film in response to fan demand.
After launching on video-on-demand services, My Friend Dahmer has been circling the top of the iTunes chart in categories such as drama, horror, and high school movies for months. The film launches in the UK on 1 June. Ahead of the release, Verdict spoke to Marc Meyers on his unique approach to the subject and how he found the human in the heart of a monster.
"I think it's important as a filmmaker to understand where your characters are coming from. If you call that empathy then yeah, I definitely empathised with him. I had to pluck moments from my own life to make him a fully realised three dimensional character. But that's what movies are, they're empathy machines."
During a memorable exchange at the BFI London Film Festival, one viewer was quick to criticise Meyers' approach, accusing the director of being too sympathetic towards that 'monster' that was Jeffrey Dahmer.
But, responded Meyers, was Dahmer not a man?
Society has an obsession with serial killers, both real and fictional. Still, despite the interest in serial killers, we're squeamish about acknowledging their humanity. Murderers are called 'evil', 'inhuman', 'monsters', or 'insane'.
Where My Friend Dahmer succeeds most is its exploration of the forces which made Dahmer a killer. His difficult home life, his alcoholism, his closeted homosexuality, his fascination with seeing inside bodies are all touched upon. Smartly, Meyers avoids focusing on one specific incident or moment which made the murderer.
"I didn't want to put judgement or blame one singular force as being its fault. It's like, these are all the devices that are pressing on him, knowing that he's also wired wrong, that he has proclivities that are evil and ghastly.

"It's the fusion of all of those things that creates this person.

"I didn't want to point fingers. I'm a dramatist, I'm not a psychiatrist who is trying to come to some conclusion. That's for the psychologist in all of us to kind of deduce that it's a mixed back of influences.

"If I do it right and I've been successful at doing it then people will bring their empathy to it because I've brought the forces to play for you to care about the characters on the screen. "
Meyers admits that to find the human at the heart of his protagonist, he drew from his own teenage years:
"My own parents ended up splitting up right after high school, there are just qualities or emotions that I remember, it wasn't as toxic as (Dahmer's parents') marriage at all but it was just enough that I could relate to that story and I could relate to that time in his life, and that gave me an extra energy to find some parallels which made him more relatable as a person.

"The funny thing is, I'm told by (the artist behind the graphic novel) that some of the things that I put in that I thought were coming from me were also incidents that happened to Jeff."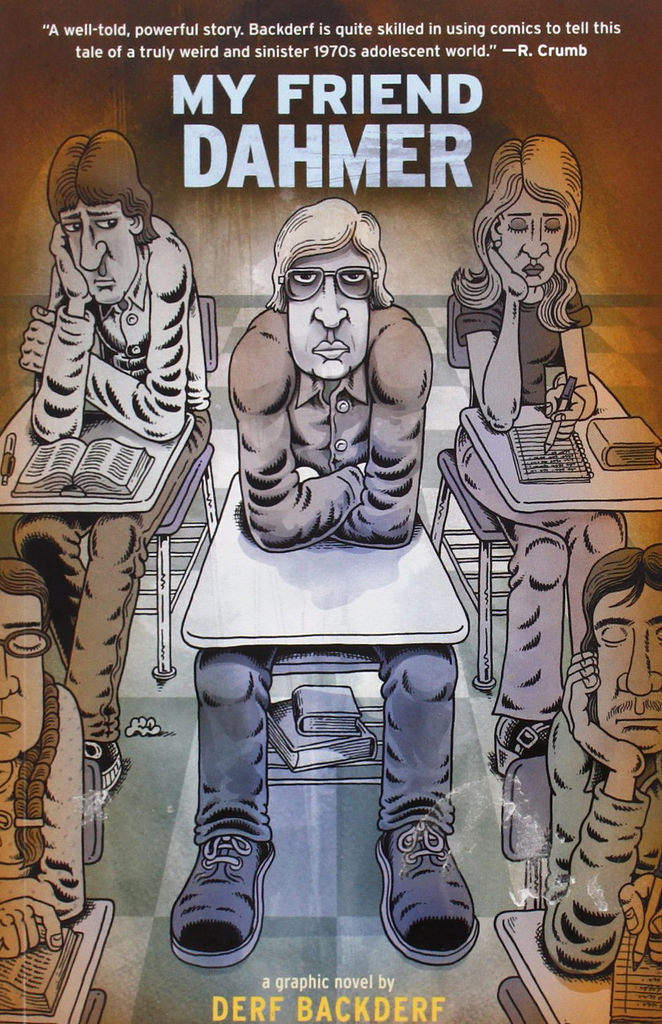 Filming in Dahmer's actual house:
One of the movie's most interesting quirks is that it was filmed in the actual town where Jeffrey Dahmer grew up. Even more specifically, it was filmed in the actual house where Dahmer and his family lived. That house was actually the site of his first murder.
"Working in the house was great, it gave it an exact specific place so when I was at the house it helped me do the rewrites so that I could really imagine how the characters moved through the home and when I was there it really gave the actors and myself a lot of inspiration, like we were getting some truth.

"It was a reminder to everyone that we're talking about a real person here. I really feel like for anyone, our childhood home is part of our identity and that house means something to us, and for him too. So it was great."
The house actually has a quirky link to a UK pop group too. At the same London Film Festival Q&A, Meyers dropped the bombshell that if it hadn't been for the Spice Girls, the film probably wouldn't have come together in the way it did.
"The owner of the house was a member of The Waitresses. One of their songs ("Christmas Wrapping") was re-recorded by the Spice Girls. That became a huge hit which gave him enough money to buy the house."
Who knows what Victoria Beckham, Geri Haliwell, Mel Brown, Emma Bunton, and Mel Chisholm would make of the film, but it's a fun anecdote nonetheless.
Exorcising a bogeyman:
Meyers confesses that he worried about how the film would be received amongst the gay community.
Dahmer was a prolific killer of young gay men. He picked off potential hook-ups and male prostitutes when they came back to his apartment for sex.
He notes that, for some of his gay friends, the spectre of Dahmer was invoked as a sort of bogeyman. As the release of the film came closer, he admits being concerned about whether the gay community would be able to put aside its history with Dahmer.
Ultimately though, the LGBT community have embraced the film as a means of exorcising that spectre:
"After we shared it at the Frameline festival (one of the world's biggest LGBT film festivals), we had so many LGBT film festivals from around the world reach out to say they wanted to show it. It's meant for them too.

"My recollection of high school was that there were a couple of my friends that I only realise now, were gay.

"But I looked back and thought maybe they couldn't admit were what they were going through as a closeted homosexual. It must have been even harder a decade earlier in the 1970s. So what I wanted to do was to layer in that; hearing the things that are cruel but you can't respond to them as a kid because high school is a dangerous place."
Dahmer's friends:
Derf, the alias of John Backderf, the cartoonist behind the original graphic novel My Friend Dahmer, was actually on set for a lot of the film's production. Meyers tells me that for him it was a eerie experience.
"I think they just came on the set and they were like 'wow'. The only note that Derf had was during the mall scene, I turned to him and said 'is this right? Is this what it was like?' and he said yeah, it was, almost freakishly so. His only reaction was just to say how freaky it was that we captured some part of it all."
The film also received an enthusiastic reception in Cleveland, Ohio, the closest major city to the where Dahmer grew up. In fact, some of the characters shown in the film including Dahmer's prom date and father still live in the area.
The friends of Dahmer and Derf have proved major supporters of the film:
"We did a premiere back in Cleveland and they were all there and I did a Q&A with Derf and they were just very proud of the movie."
From Disney star to My Friend Dahmer:
One of the biggest surprises about My Friend Dahmer is that a large swathe of its fans are teenage girls.
That's in part down to 22-year-old leading man Ross Lynch. A former Disney channel star, most know Lynch for his roles in Austin And Ally and Teen Beach Movie. He's also a part of pop-rock band R5 along with his two brothers, sister, and close family friend.
So how did Meyers end up casting a clean-cut Disney heart-throb as a deranged killer?
"I don't think you can go into the casting with any preconceived notions. What I prefer to do is to write characters and then send out the scripts to their agents, who hopefully know the actors very well and will find people who are a good fit. You have to find people who come to the film because they have some innate desire to be a part of it.

"Because we were doing a film about a real person we had to find someone who looked like Dahmer. That narrowed the search a little but we never expected to find someone like Ross.

"He joined the film because he'd been with Disney and he wanted to do something a little darker. But we never expected to find someone who both looked exactly like Jeffrey Dahmer but was also such a phenomenal actor. I think I saw maybe 100 actors to play a young Dahmer. Ross was the only one who both looked the part and brought that skill to the film."
Lynch's background as a dancer brings an incredible physicality to his role as Dahmer. The scenes where he ostentatiously breaks down to shock his classmates and gain their attention are some of the film's most arresting.
What comes next?
Meyers has been promoting his film for months now, and his pride in it is still clear. Still, the success that the film has achieved was certainly not something he could have anticipated:
"We played a few film festivals, then in November we went into cinemas around the USA and the film just grew. It's done far better than films of this scope and budget usually do so it was a real surprise. Then a bit later we went online onto video on demand and its just been crazy…

"It really has been an incredible reception, not at all what I could have anticipated."
But, as with every successful filmmaker, he's constantly looking to the future. Meyers offered a few hints as to what he's up to next:
"I'm doing a film about three kick ass ladies. That's another period piece and I think the title of that might be released next week. There's also another book adaption that's coming soon too."
Whatever he does, Meyers has a deft pair of hands and sharp focus. If My Friend Dahmer is any indication, his next movies should be a real treat.
Verdict deals analysis methodology
This analysis considers only announced and completed cloud-deals deals from the GlobalData financial deals database and excludes all terminated and rumoured deals. Country and industry are defined according to the headquarters and dominant industry of the target firm. The term 'acquisition' refers to both completed deals and those in the bidding stage.
GlobalData tracks real-time data concerning all merger and acquisition, private equity/venture capital and asset transaction activity around the world from thousands of company websites and other reliable sources.
More in-depth reports and analysis on all reported deals are available for subscribers to GlobalData's deals database.