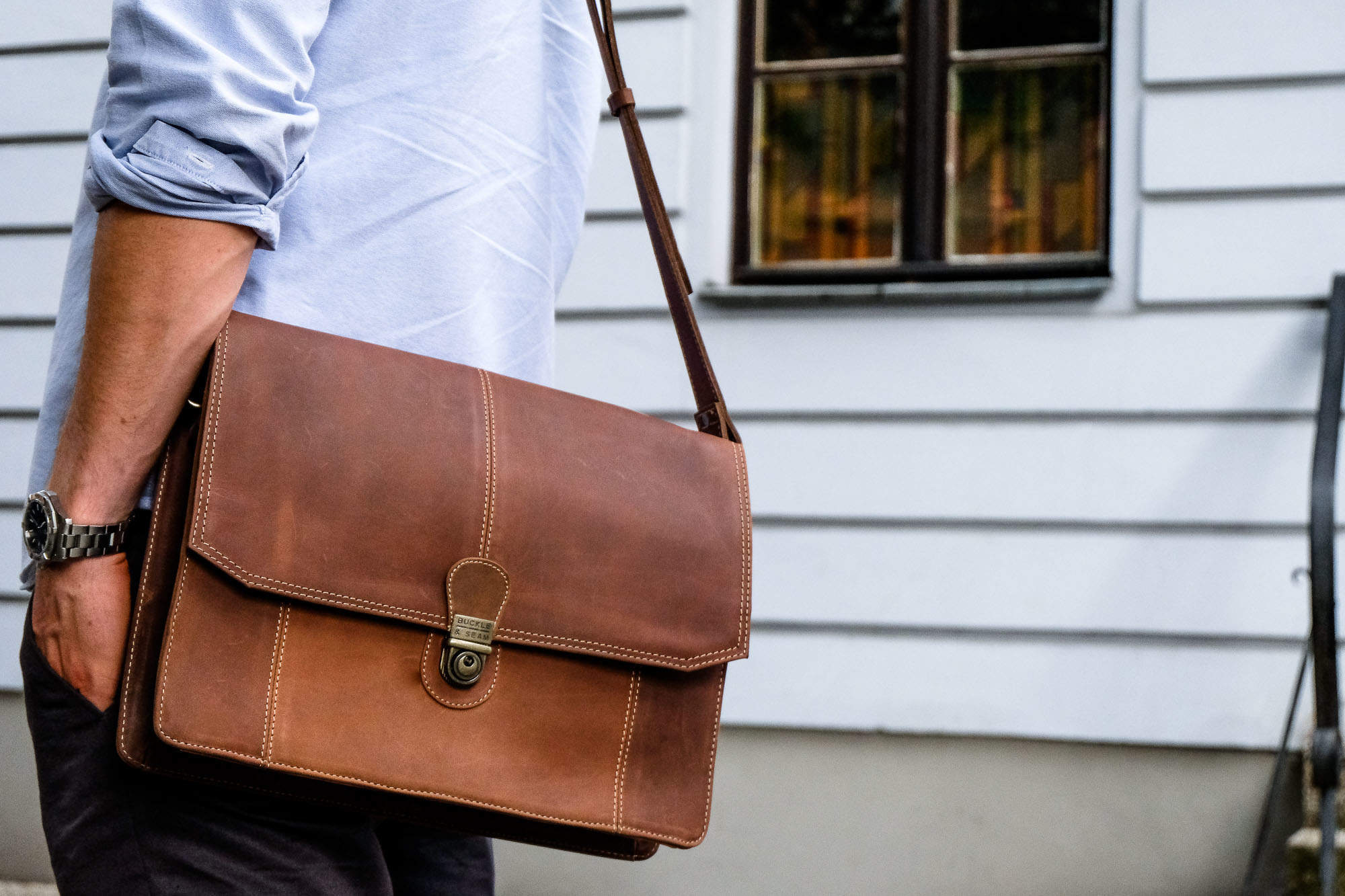 When one thinks of luxury leather manufacturing, Pakistan is probably one of the last places that comes to mind.
The youthful country — which began its 60th year in 2017 — is often vilified in Western media for its social problems and diaspora.
However, that's far from the whole story as two young Germans, Marco Feelisch and Georg Wolff discovered while working in the country.
Both working for Rocket Internet, an internet investment company based in Berlin, they met in Pakistan and fell in love with the country.
Now, several years later they've returned to start their own brand, Buckle And Seam.
The company designs luxury leather bags of the finest quality that offer something really different to their competitors.
How well do you
really

know your competitors?

Access the most comprehensive Company Profiles on the market, powered by GlobalData. Save hours of research. Gain competitive edge.
Company Profile – free sample
Thank you!
Your download email will arrive shortly
Not ready to buy yet? Download a free sample
We are confident about the unique quality of our Company Profiles. However, we want you to make the most beneficial decision for your business, so we offer a free sample that you can download by submitting the below form
By GlobalData
Verdict spoke to Feelisch about Buckle And Seam, how they got started, what makes them different, and how they're building a brand that'll help them sleep at night.
We were building an ecommerce company over there in Karachi. On one weekend we thought about getting a bag made because many people had told us about the great craftsmanship in Pakistan.

Neither of us had ever owned a leather bag because we both thought they'd be too expensive… we were going to business meetings without proper bags. So on a weekend we decided to go and get ourselves leather bags.

We got in contact with some guys on the market and asked if they could make some leather bags for us. And at first they weren't really luxury… But we thought we were on the right track, so after two or three tries we found a guy who made the perfect bags.
Feelisch explains how the craftsman who made their bags allowed them to personalise their choices.
He was enormously impressed at how he was able to create a bag to his exact specifications in just a few days.
Unfortunately, not long afterwards, Feelisch and Wolff were transferred back to Berlin.
They left Rocket Internet and decided to start a business of their own.
When it came to planning their future business, it really was a blank slate. They knew that they wanted to champion Pakistan, the country that had become their home, but beyond that, it was a mystery.
Conversations with friends taught them that Pakistani craftsmanship was not something well-known to those who hadn't visited, narrowing their search for a business idea a little more.
After blazing through idea after idea, the pair found themselves at their wits' end. It was then they thought about all the enthusiastic comments their personalised bags had received from friends since they got back to Germany:
We actually didn't know anyone with a nice bag, a friend or anyone in fact. Everyone had either an ugly giveaway bag or they'd have these luxury briefcases for £900 with nothing in between. And then we were like 'hey, let's get started on that idea!'
The simple fact is that luxury leather products in Europe are far to expensive for the average young professional. With more and more millennials entering the workplace, they knew they'd found their niche.
Despite realising that it wouldn't be as simple as going down to the market place and finding a craftsman, that's where Feelisch and Wolff began.
Enlisting the services of the same craftsman who made their bags, they ordered an array of samples.
Lacking the funds for a comprehensive product-testing group, they sent the samples out to their friends.
We asked (the craftsman) to make different samples of different sizes and shapes and we shipped those to our friends who were young professionals. And they helped us make sure our bags were perfect for daily life.

They told us 'I need a handle here, I need a strap there, I need this, I need that, I need a travel bag etc'. But the feedback from our friends was that this was an awesome idea. So we said 'let's actually do it'.
At this juncture, however, Feelisch and Wolff gazed at the enormity of the challenge before them. Deciding that they couldn't create a fashion brand alone, they enlisted the help of Jena Bautmans.
As co-founder and creative director, Jena works on the design and visual identity of the brand. And while she might have been the last person to jump aboard the Buckle And Seam team, her contributions are vital, Feelisch explains:
I think it's really important for positioning ourselves as luxury, we needed this luxury lifestyle idea and we needed to bring it to the people. If you don't market it right, you're not going to be successful, that's just a fact.
The trio then flew to Pakistan to find somewhere to manufacture their bags.
Unfortunately, it didn't prove quite as easy as they might have hoped.
That was due to the fact that even though you can get great quality in Pakistan, the challenge was to find working conditions which were nice, where we could say 'we're proud to be produced in Pakistan'.

We found a lot of places which said they could make them. They'd tell us they produce other name-brand bags, which you'll find on sale for £1,000. But they were shady places. What they do is they make the entire bag in Pakistan with a 'Made In Italy' badge, then send it all to Italy where they stitch the badge onto the bag.

Because part of the manufacturing is done in Italy, so they can say Made In Italy.
In fact, this was an idea that was suggested to the Buckle And Seam founders.
However, they were insistent that their brand would tell a different story. As much as luxury was important to them, as was championing the place where their products were being manufactured.
Ultimately, they simply couldn't find a supplier who'd be proud to have a Made In Pakistan tag on the products.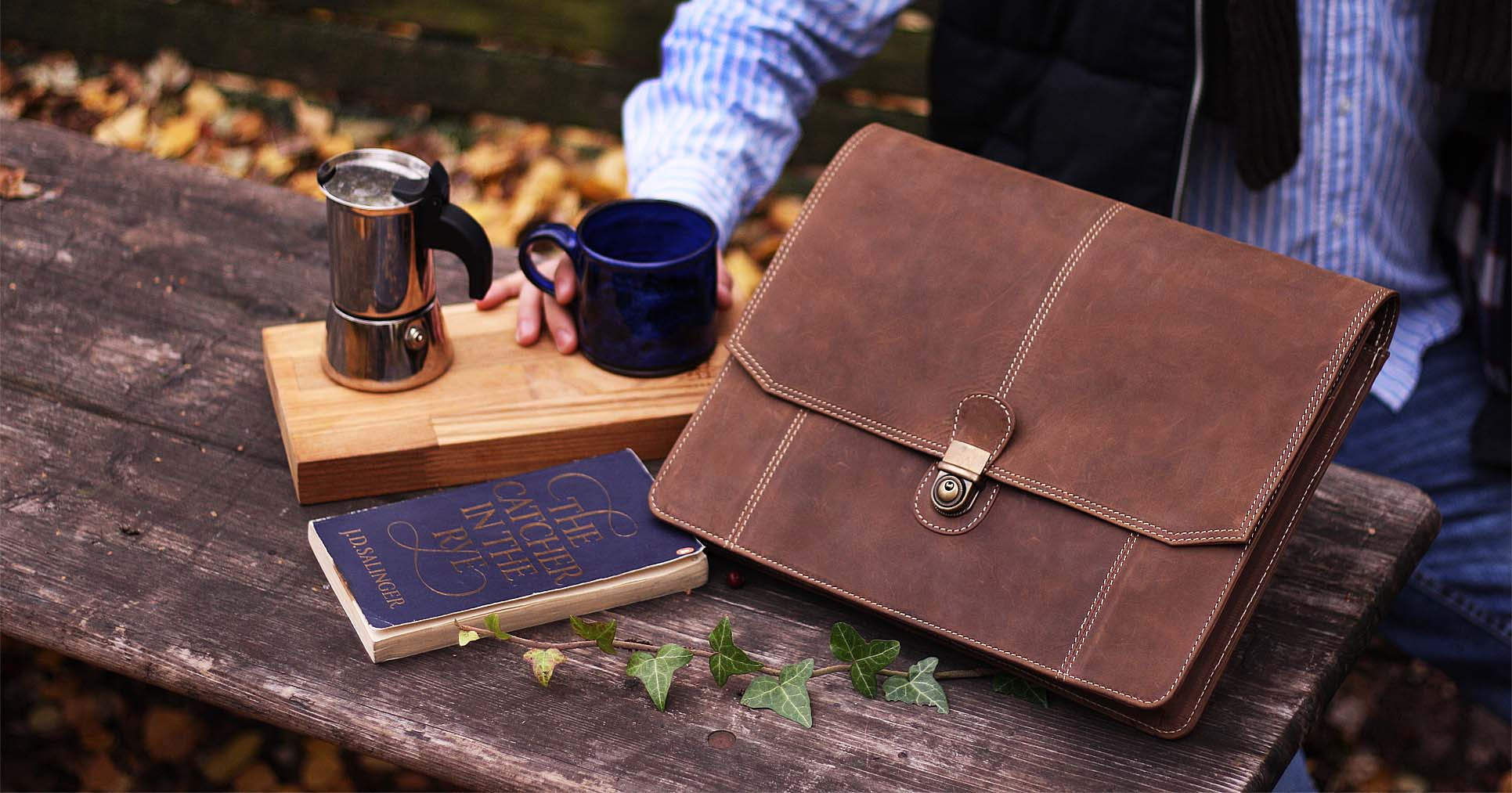 In the beginning a lot of people said we were insane for trying to promote a product that was made in Pakistan.

We said 'if you say it's insane, we can do it'. Because we have lived in that country, we see how great these people are and we believe we can do something with this.
So they came up with a new solution: buy their own factory. While some might assume the company could exploit Pakistani workers, nothing could be further from the truth.
In fact, social responsibility is so heavily enshrined in the company's business model that it could be. But owning their own factory was down to much more than just spinning a good story, says Feelisch.
One (reason) is the quality which we wanted to achieve. But the one thing that doesn't come with quality is the work life. Generally you have cheap labour which doesn't have any securities or insurance or proper work conditions.

In getting our own factory, we cut out the big boss of the factory… We don't need that management so if we cut those out, we could just pay the workers more… Because when we say we're produced in Pakistan, people have a certain image of it, it's not something that people are immediately positive about.

They're normally like 'oh, why did you choose Pakistan?' And we showed them our factory and our work conditions which are one of the things we think people need to consider.
I wondered whether Feelisch felt only luxury products like his have the capacity to include social responsibility in their business model:
I don't think it's necessarily only luxury products that can do this, I think it's more about the mindset of the company. They need to decide 'do we want to provide really impact with our social credentials or do we just want to use it for marketing purposes?'

The margins in fashion especially are generally the highest. There's a lot of companies which can play with those margins, especially if they go on volume achieve it. But the problem is that there's too many middle men in between. Even if the head of the company says 'I want to have a better wage for my shift workers'.

He'll talk to his assistant who'll talk to his importer who'll talk to his local agent who'll talk to his factory manager, and along that line you'll lose all the money that you've set aside to give those workers better wages.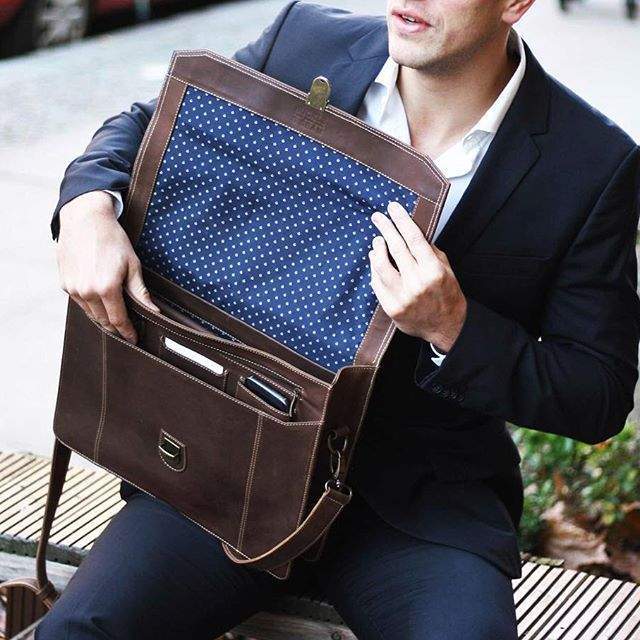 Of course, all of this is moot if the product wasn't up to scratch.
Thankfully, Buckle And Seam's workmanship is top notch.
Their bags feel timelessly classic and elegant, and also like no other luxury leather bag that's come before them.
And, in fact, that notion of being up-to-scratch is what makes Buckle And Seam different to their competitors, says Feelisch:
They like scratches. Our bags become unique over time. If someone runs into you and scratches your bag, it's good for the bag. It really helps it become unique so you know it's yours.

Your bag grows with you. Every bag tells its own unique, individual story. If someone has one type of bag with us, they're really likely to get another type of bag from us.
And personalisation doesn't stop with a few scratches on the outside of the bag either. Seeing as they're making bags for millennials in the workplace, there are a few other nice touches too!
You have the option to design your bag how you want it… you can customise the inside and choose the inner lining of your bag. Whether you're a funky person who wants a pattern or just a standard block colour, we have something for everyone.

Generally no one else lets you do that. In mine I have green boats and when I open my bag on the train people look at me and they're like 'what the fuck?!' because it's such a contrast!

It makes a statement when outside its classic and inside it's really different. We also have an in-house team who give you the option to engrave your initials on the bag. It's the perfect option for a business person who is seen with their bag or people who just like personal bag.
But make no mistake, these personalisation options aren't to distract from the premium leather itself.
The bags have a soft feel to the touch that looks as luxurious.
However, it's a tough, resistant leather that holds its shape. Imperfections in the leather can be made out on some of their products too. However, rather than worry about those issues, Buckle And Seam have adopted them into their visual identity.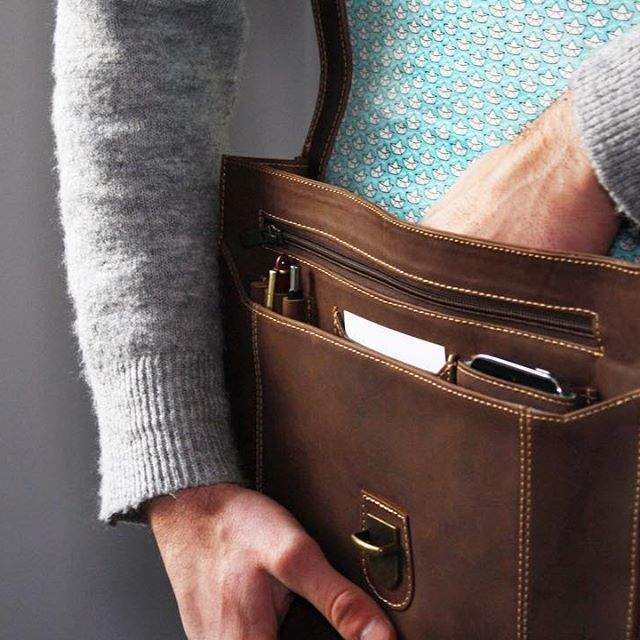 Part of what makes these bags so unique is the way the leather is treated. Unlike their competitors, they use vegetable tanning, a much more environmentally-friendly mode of treating the leather.
If the cow lives in a colder area, the leather is thicker. Leather that comes from Bangladesh, India, China, and stuff is very thin leather. Whereas in northern Pakistan it is very cold so the leather is thicker.

Normally, what happens is, to remove imperfections you use chemicals, that's chrome tanning. You roll it for up to five days to remove all the harmful bacteria… But aside from killing just the bacteria though, chrome tanning also removes all the pigment from the skin. So then the tanned leather is coloured. That's where you get the variation in terms of colouring.

Every piece of leather is several layers of skin layered on top of each other. If you look at a black bag that's just pure black, if it's even that means they took off the first layer. Because every cow has scars and stretch marks. You see the same things on a human, right? That's really normal. Most people take off the first layer to make all their products uniform so no one can complain about quality issues or stretch marks on a particular area of the bag because it might not look perfect or posh.

People complain if bags aren't uniform because they don't think it looks high quality enough. Our bags can look different because we figure, that's how leather is. You can remove those things with chemicals but we decide not to. Vegetable tanning takes more time (30-45 days), it's more expensive, but it's less harmful for the environment because you don't need any chemicals or anything to do it!
That, says Feelisch, is what makes their bags feel so much more luxurious than their competitors' efforts.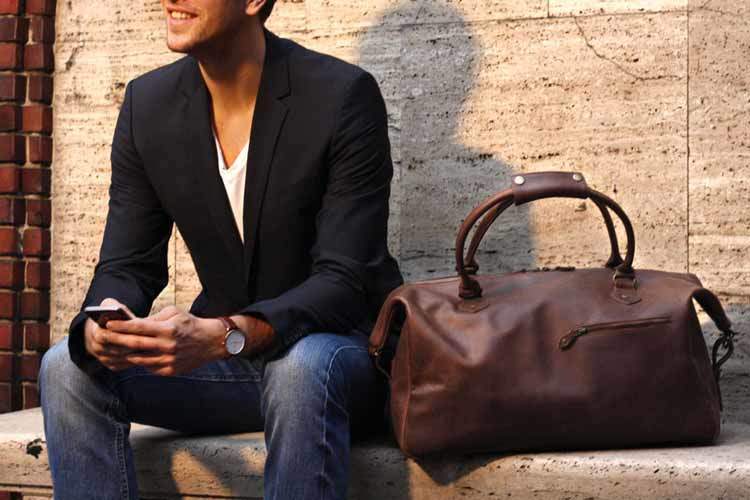 Delivering affordable luxury, championing a developing country, paying a fair wage, and providing a premium product might be enough for most companies.
But Buckle And Seam have decided to go one step further. As a company, they donate three percent of their overall sales to the Anum School For Girls in Pakistan.
Currently the school is forced to charge a minimal fee for each child. However, in the future, Buckle And Seam hope to donate enough to fund the school in its entirety.
And there was this school we heard about, where a woman had tried to push this initiative already. But there was a lot of protest against it from the men. Because this was an educated woman who wanted to bring up an entire discussion about it.

For that woman, she was aiming for that for the last twenty years to try to push it through. But it always depended on donors and rich families to donate their money to it… So we enshrined it in our business. We said, let's dedicate three percent because at some point we'll be able to fund this whole school ourselves, and it won't need to rely on donors.

Whatever comes in additional to our funding, they can use to buy themselves new equipment and new teachers. Our business has been growing quite nicely lately, so we think we can achieve our targets and finance that school and fund it for an entire month at a time. Our goal is, once we get bigger internationally, we'll be able to get a property to donate to the school so they can really run it.
But, unfortunately, there has been some local resistance to the programme. However, for Feelisch, that's just par for the course:
The programme was not really accepted. But if you go and talk to people and educate them. If you speak to them on their terms and say, 'hey, if you educate your daughter, her kids will be even more educated and they'll be able to step two or three income classes up. Then everybody understands. All these people are smart, they understand it, it's just out of the ordinary. It's something new.
As with any small business, Buckle And Seam have faced plenty of naysayers.
Whether that's people who assume they use child labour to those who criticise their decision to manufacture in Pakistan, they've faced them all. For Feelisch though, all of this is water off a duck's back:
There were a lot of people who said we should be producing in Europe. But I think this is really great and a lot of people respect that. You'll always get people who complain. There are more people who complain than actually have ideas to fix the product.

But I strongly believe that the feedback in terms of sales, that people, if they didn't like the quality of the products or that they're made in Pakistan, they wouldn't recognise what we do. Everyone really, really loves it.
Buckle And Seam create bags of various sizes, from laptop sleeves and messenger bags to duffel bags, and can be purchased from their online store here.