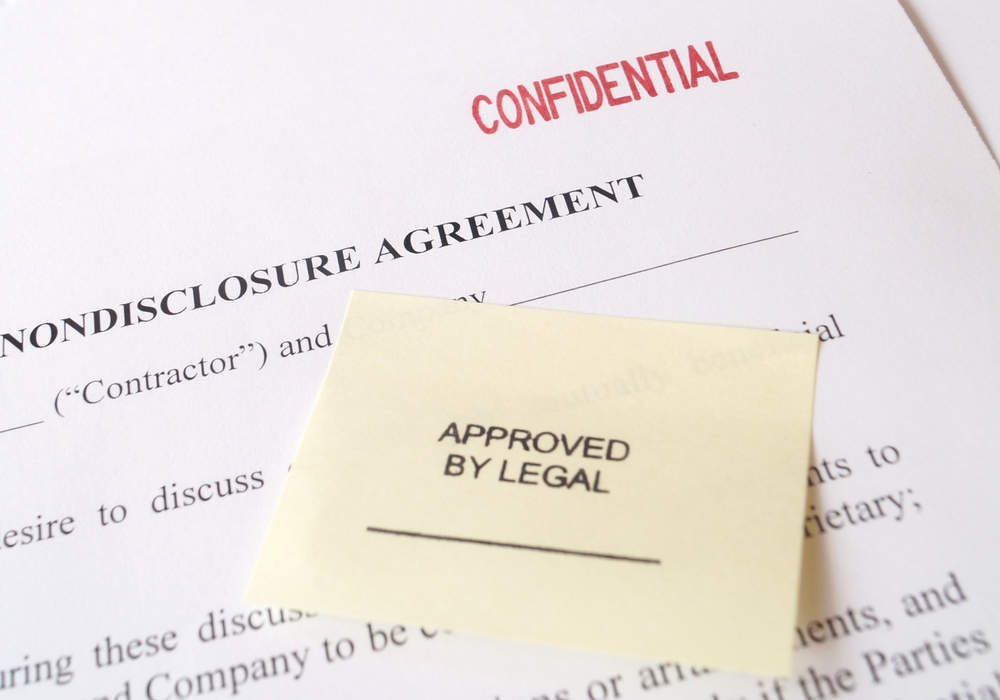 Workers need better protection from harassment, according to the UK equality watchdog. The first step? Making the infamous non-disclosure agreement illegal.
A non-disclosure agreement is a clause employers occasionally put in contracts. It opens up an employee to legal action should they divulge company secrets and is usually intended to prevent a former employee from leaking sensitive company information to subsequent employers.
Non-disclosure agreements are also often part of the terms of severance pay. If employees leave a company or are made redundant they are sometimes forced to sign a non-disclosure agreement in order to get a severance package.
However, in recent months, non-disclosure agreements have made headlines for being used to prevent victims of sexual harassment from coming forward about their experiences.
The Equality and Human Rights Commission demanded that ministers take urgent action to prevent this becoming the norm.
In a new report on the issue of sexual harassment, the commission recommends that urgent steps are taken to outlaw non-disclosure agreements which can be used to manipulate victims of sexual assault into silence.
Speaking on BBC Radio 4's the Today Programme, Rebecca Hilsenrath, chief executive of the Equality and Human Rights Commission said:
A victim is not in a place to say an agreement shouldn't be confidential, and as a result, the perpetrator is then to free to do it again and again to the next woman down the corridor.
Some of the findings of the report included anecdotes about victims of sexual assault.
These included a 17-year-old locking herself in a toilet in fear after hearing male colleagues joking about rape. Elsewhere, one woman lost her job as a result of speaking out about being sexually harassed at work.
In the report, Hilsenrath added:
"Corrosive cultures have silenced individuals and sexual harassment has been normalised.

"We need urgent action to turn the tables in British workplaces, shifting from the current culture of people risking their jobs and health in order to report harassment, to placing the onus on employers to prevent and resolve it.

"It cannot be right that millions of people go to work fearing what might have happened by the time they come home."
Speaking to the BBC, Neil Carberry of the Confederation of British Industry, a business lobby group voiced his support for the report's suggestions:
The CBI recommends that employers make it explicit that any confidentiality clauses do not prevent a person from whistleblowing on systematic abuses of power.
The most famous examples of non-disclosure agreements
Non-disclosure agreements have received plenty of bad press lately after various abuses. Here are just a few of the most infamous cases of non-disclosure agreements being used to silence victims of sexual harassment.
The President's Club charity dinner
In January 2018, a huge backlash occurred when it emerged that an all-male charity dinner featured prominent business leaders groping young female hostesses.
According to the initial exposé hostesses were ordered to sign non-disclosure agreements. These agreements explicitly prevented them from speaking out about being assaulted. They were also banned from naming the perpetrators.
Rumours swirled for years around such behaviour at the dinners. Presumably the hostesses' non-disclosure agreements prevented them saying anything.
The whole thing was exposed by a undercover journalist working for the Financial Times. It alleged that the agreements were void because they didn't get the time to read what they were signing.
The Weinstein Company
In light of the allegations made about movie mogul Harvey Weinstein, many asked how the alleged serial abuser's behaviour only became public knowledge in October 2017 — with victims claiming the abuse had taken place over decades.
This was perhaps due to staff being forced to sign non-disclosure agreements.
Many think Miramax and the Weinstein Company widely used non-disclosure agreements. However, it's unknown how exactly how many employees signed them.
Speaking to the BBC, Weinstein's former personal assistant Zelda Perkins said she was forced to sign an agreement after witnessing an attempted rape by Weinstein:
I really was manipulated [into signing a non-disclosure agreement] with the Weinstein Company. I was really given no choice.

The legal profession are enabling the perpetrators – people who have a lot of power or wealth – I think there needs to be a disincentive for the legal profession as well as employers.
Fox News:
Former Fox News presenter Bill O'Reilly's use of non-disclosure agreements has become infamous.
The New York Times reported that O'Reilly forced six victims of sexual harassment to sign non-disclosure agreements.
It also reported Fox News and its parent company 21st Century Fox knew about these settlements when O'Reilly's contract was renewed.
Fox also used non-disclosure agreements to prevent victims from speaking out about abuse by their former chairman Roger Ailes, according to the US 'paper.
Donald Trump and Stormy Daniels
While this is not an employment contract, it is one of the most talked about examples of the use of a non-disclosure contract at the moment.
Porn star Stormy Daniels alleges that US president Donald Trump's personal attorney Michael Cohen threatened her into signing an agreement.
This agreement prevented her from discussing an affair between herself and Trump years before his election. The affair allegedly took place just after Trump's wife Melania gave birth to his son Barron.
Daniels has subsequently broken the non-disclosure agreement and discussed the events. She alleges that he paid her $130,000 in hush money after she signed the agreement. As a result, Daniels is now facing legal action for defaming Cohen.
There are few non-disclosure agreements whose details have become public — suggesting those that do exist are working.