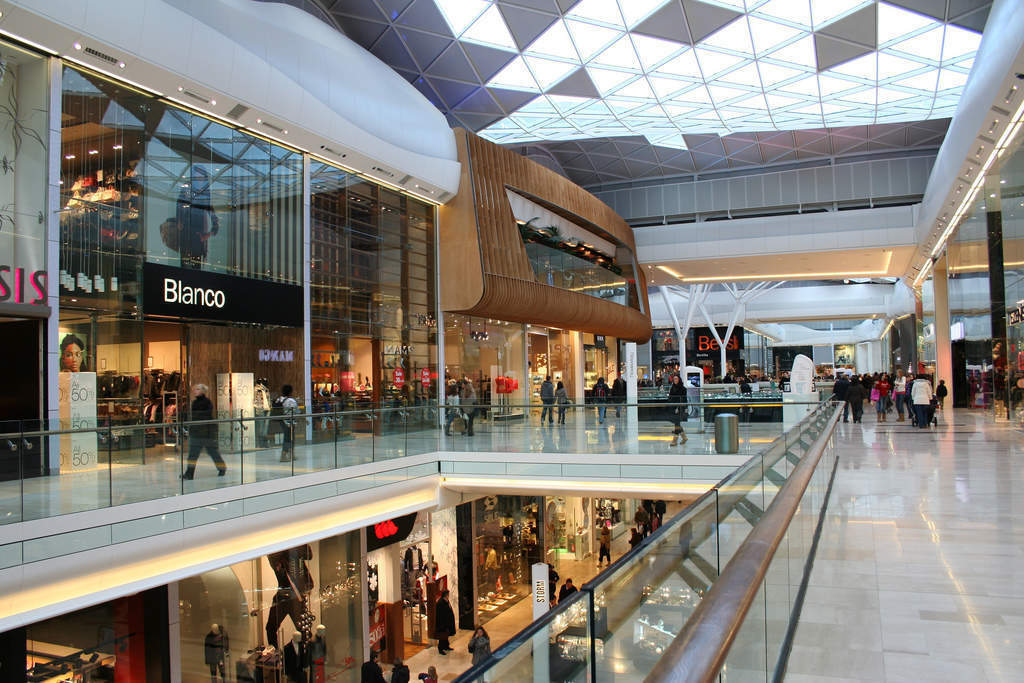 Soaring temperatures, the World Cup, and royal wedding have boosted the UK's return to GDP growth, yet the retail crisis continues with more store closures and job losses.
The heatwave has helped the British economy recover ground after a tough first half of the year. The Office for National Statistics has presented its first-ever estimates for GDP on a monthly basis. It said that the warmer weather and the royal wedding in May helped the country bounce back from zero growth in March when the UK's economy flatlined due to prolonged cold temperatures caused by "beast from the east".
In June, high street sales dropped 1.7% year-on-year for a fifth consecutive month according to data released by advisory firm BDO, which bases its findings on a survey of mostly medium-sized retail businesses. It was the first time in 12 years that in-store growth had not topped 1% in a single month for the first half of a calendar year. The survey suggested that bricks and mortar retailers have endured their worst six months of trading in more than a decade.
Sophie Michael, the head of retail and wholesale at BDO, said: "The bleak and crippling start to the year shows no sign of abating, with deep discounting set to eat into [profit] margins that are already being stretched paper-thin by poor sales and rising costs, including the much-discussed issue of unfair business rates on high street retailers."
It is predicted that the current high street crisis could leave 100,000 shops empty within a decade, according to the Grimsey Review 2. An independent report forecast that nearly 70,000 high street jobs will disappear this year.
Widespread store closures
This month, Poundworld announced further store closures that could leave 242 staff unemployed; while Mothercare said it would cut 900 jobs — 100 more than previously stated.
Meanwhile, M&S shocked workers' unions by threatening to close even more stores, resulting in further job cuts. The retailer's chairman Archie Norman claimed the size of the stores' portfolio had become a "drag" on its performance and that "this business is on a burning platform". Chief executive Steve Rowe added that "there are likely to be more redundancies" as a result of plans to slash £350m in costs by 2021.
Furnishings retailer Dunelm said it had experienced a falling number of shoppers visiting its stores, with lower product demand leaving it with more stock than it expected. This excess stock will likely lead to discounts and clearance sales. The company has warned that its future profits are under threat as Britons stay away from the high street during the warm weather.
The retail crisis so far
January
The year started with House of Fraser seeking to reduce store sizes and rents after a tough Christmas in a bid to cut its high street footprint by 30% over ten years. Meanwhile, another department store sparked fears of job cuts and outlet closures after Debenhams shares dropped by 15% to the lowest level since the 2008 financial crisis. The share price would continue on a mostly downward trajectory as the months went by.
Mothercare was also hit by poor Christmas trading, with share prices decreasing by more than 30% to an all-time low of £42.05 after a profit warning.
In the second half of the month, Arcadia Group's poor sales forced it to propose paying suppliers 2% less on existing and future orders in a bid to "save the company millions".
M&S put 380 people's jobs into doubt with the announcement that it would be closing its London distribution centre after disappointing Christmas trading figures. The retailer also shut 14 high street outlets, putting nearly 500 jobs at risk in a drive to cut costs and boost online sales.
Tesco axed 1,700 jobs, including HR, compliance and customer service roles in cost-cutting measures. Sainsbury's also slashed thousands of store management positions, including department managers, team leaders and supervisors.
Palmer & Harvey collapsed with debts of more than £700m, making nearly 3,000 people unemployed.
February
At the beginning of February, Morrisons announced it would be cutting 1,500 management roles, following Sainsbury's and Tesco's efforts to reduce costs.
Disappointing sales forced New Look to weigh-up restructuring options such as a company voluntary arrangement (CVA), confirming shops could close as the new management team battled falling profits.
Halfway through the month, Laura Ashley issued a fresh profit warning as furniture sales decreased.
Warren Evans entered administration, sparking panic among customers who have potentially lost cash after staff confirmed that no more deliveries would take place. The company called in administrators on 6 February after failing to find new investors.
At the end of the month, Toys R Us announced it was facing bankruptcy, jeopardising 3,200 jobs after it failed to find a buyer in time to pay its £15m tax bill.
Following Maplin's sales plummeting by 7% over the festive period, the retailer reached a critical point as it faced a £15m VAT bill due on 1 March.
After fears surfaced over potential job cuts in January, Debenhams confirmed it would axe one in four managers, resulting in 320 layoffs in a drive to save £10m.
March
New Look announced plans to reduce rents on 60% of its stores in order to tackle its £1.2bn debt, risking 1,000 jobs. The retailer also considered a CVA to close its loss-making shops.
Meanwhile, Carpetright issued a third profit warning in four months.
Conviviality, which owns Bargain Booze, asked investors for a £125m cash injection to help pay a £30m tax bill, as well as fund overdue payments to creditors, and repay a £30m loan. However, after investors refused to pump more cash into the business, Conviviality filed for administration, causing uncertainty for 2,600 employees.
Mothercare entered rescue talks with banks to raise funds needed for a turnaround programme, involving the closure of almost half of its 152 UK outlets as sales move online.
Toys R Us administrators failed to find a buyer, resulting in the closure of 100 UK stores and 3,000 people losing their jobs.
Towards the end of the month, H&M announced price cuts in an attempt to lift sales after cold weather kept customers away and hit profits. Ted Baker was also affected by the freezing temperatures, with sales falling by 13%.
Following a tough start to the year, House of Fraser held emergency funding talks with specialist lenders amid mounting fears for its future.
April
The number of people visiting shops dropped by 6% in March, putting further pressure on retailers for April.
More than 21,000 jobs were cut or left in doubt by store closures and companies restructuring, resulting in a bleak quarter. Supermarkets took a hit from the "beast from the east", which cost them around £22m.
Shop Direct, which owns Very and Littlewoods, announced measures to close three of its sites and put 2,000 jobs at risk, while Carpetright announced the closure of 92 outlets with the potential loss of 300 jobs as share prices fell sharply by 16%. Carpetright also announced that its losses will be double those previously forecast.
M&S revealed it was a shutting another distribution centre, resulting in 450 layoffs. This took the total number of job cuts to 1,300 for the retailer this year.
Further job losses were announced as fashion chain East failed to find a buyer, creating uncertainty for the employment of 314 staff.
Towards the end of the month, Poundworld joined the list of retailers shutting shops by announcing the closure of around 100 stores, risking 1,500 jobs while it finalised a CVA proposal.
May
Chinese firm C.banner agreed to buy a 51% stake in the parent company of House of Fraser, potentially threatening hundreds of jobs as part of a restructuring deal.
A further 1,500 jobs were left in limbo after Virgin Media unveiled plans to close its Swansea call centre. Meanwhile, Calvetron — owner of Jacques Vert and Windsmoor brands — was reportedly on the brink of collapse.
Turnover at Arcadia Group — which owns Topshop, Topman and Dorothy Perkins — fell 5.6% to £1.9bn, a decline of £113m.
Mothercare announced the closure of 50 stores with the potential loss of 800 jobs as part of its restructuring plan. By July, the number of store closures had risen to 60.
However, the retailer remained on course to secure £113.5m in new funds, and revealed plans to raise £28m from shareholders.
After Ikea's profits experienced a sharp fall, the furniture retailer pulled out of opening a new outlet in Preston that would have created 350 jobs in 2020.
M&S revealed another round of closures, with plans to shut 100 of its large clothing and food stores amid falling sales and profits.
Homebase was sold to restructuring specialist Hilco for £1 as the DIY chain's Australian owner Wesfarmers exited UK operations, jeopardising thousands of jobs. Around 60 stores were expected to shut as part of the CVA process, although the figure of closures later increased.
Meanwhile, Carphone Warehouse announced the closure of nearly 100 shops as the retailer issued a profit warning.
June
The fate of Mothercare stores was thrown into turmoil after its CVA plan was rejected by creditors. The company's rent reduction proposal for Children's World —Mothercare subsidiary that has 21 outlets — was turned down, resulting in Mothercare having to consider store closures and potentially laying off 300 people.
At least 11,000 more jobs were plunged into uncertainty after House of Fraser unveiled plans to close more than half of its stores and Poundworld faced administration.
New Look was facing a loss of £235m after a turbulent year, while Mulberry's sales fell sharply in the UK as wealthy tourists opted for Paris and Milan over London for luxury shopping sprees.
N Brown became the latest retailer to be struck by the high street crisis, putting nearly 300 jobs at risk. It announced plans to close all 20 of its high street shops in the UK, which trade under the names High & Mighty, Jacomo, and Simply Be.
Debenhams continues to struggle as it considers selling its assets, including a chain of Danish shops after trading conditions triggered a third profit warning in six months. The retailer's share price had fallen by nearly 11% at £17.50 and lost half of its value since the start of the year.
Dixons profits dropped by 24% after it recorded underlying pre-tax profits of £382m for the year up to 28 April, down from £500m from the previous year.
Towards the end of the month, Carpetright announced that the weak trading and major restructuring of the business had resulted in a £70m loss. Meanwhile, five Waitrose supermarkets are set to close after parent company John Lewis issued a profits warning, putting more jobs at risk.
Meanwhile, Homebase announced the closure of 80 stores, resulting in 300 job losses.
Is a boost from the World Cup enough to end the retail crisis?
Despite an improvement in June and England's World Cup run giving retailers a welcome lift this month, it is not expected to be enough to secure the high street's long-term future. With Brexit looming, uncertainty remains rife for retailers.
Helen Dickinson, British Retail Consortium chief executive, said: "The reality is that sales don't grow on the feel-good factor alone. With household incomes still barely growing faster than inflation, conditions for consumers and retailers remain extremely tough.
"And things could get tougher: once the euphoria of sporting success subsides, without a deal on Brexit, shoppers face the prospect of significant price increases and shortages of everyday goods … households may have little to celebrate come next April."
Paul Martin, KPMG head of retail, said: "Sales growth remained in positive territory for the second month running at 2.3%, but as the recent financials of key players' highlights, sales growth and profitability don't always go hand-in-hand.
"The summer sunshine, Wimbledon, and the ongoing World Cup provide a strong foundation for growth in July, but retailers need to ensure that sales translate into profit. With the structural changes, the sector is experiencing, as well as increased costs, this is becoming increasingly difficult to achieve."