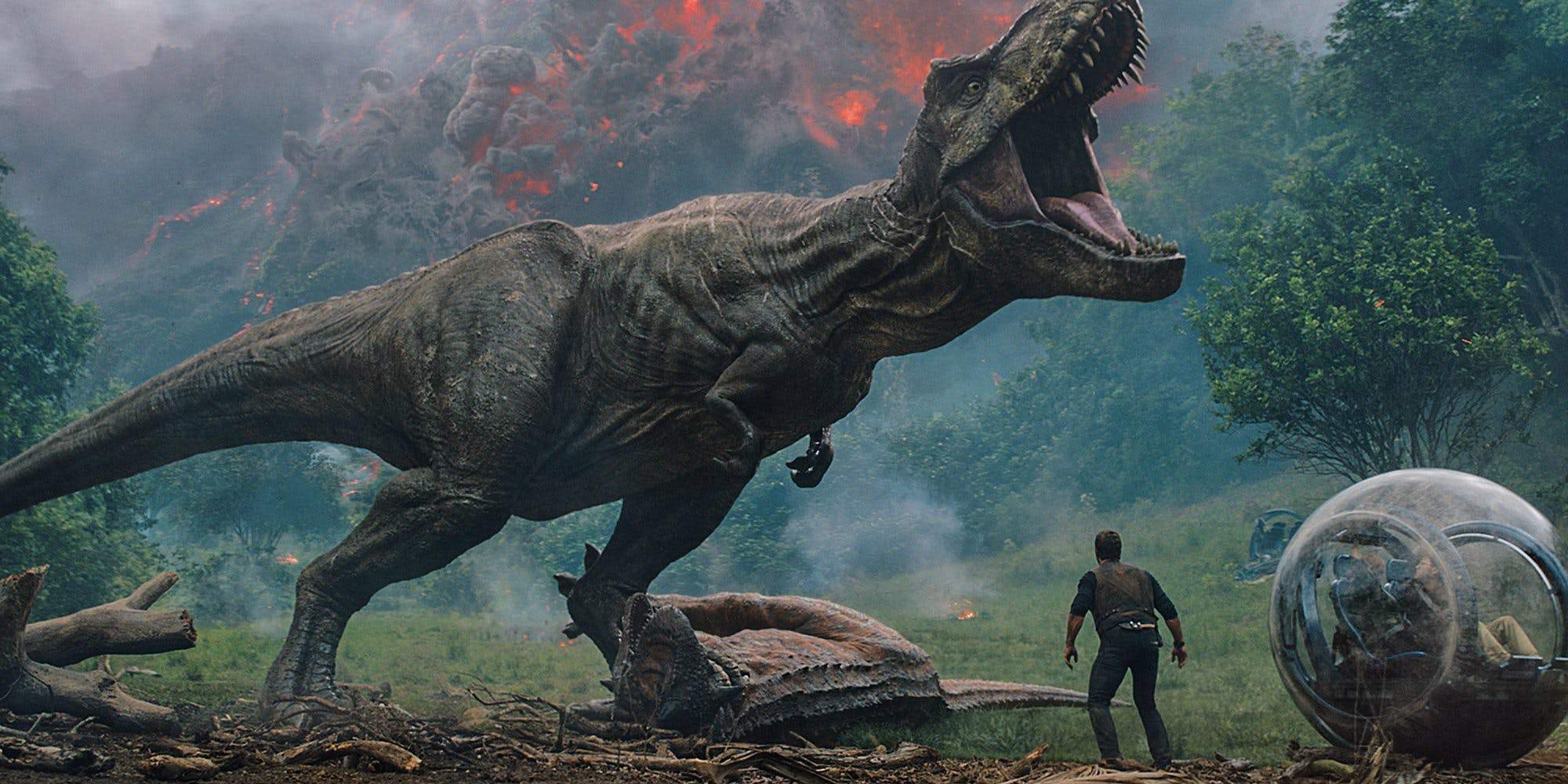 While 2017 was a mixed bag for the film industry as a whole, there were plenty of great films. However, if 2017 was good for film fans, 2018 looks set to be absolutely fantastic.
There are already tonnes of big-budget blockbusters penciled in for 2018. Many of these including Jurassic World: Fallen Kingdom, Avengers: Infinity War, and Deadpool 2 will act as follow-ups to the well-received films that made 2015 and 2016 the best years for the US box office ever recorded.
Despite the negative trends in ticket sales spotted in 2017, it's probably reasonably safe to say that 2018 will be a good time for the box office.
Here are just a few of the biggest budget blockbusters that are due out in 2018.
By the time Sundance Film Festival rolls around towards the end of January, we'll probably have a clearer idea of the smaller, more independent movies that will be worth watching. Until then though, these are the films that should probably be on everyone's radar
The biggest movies of 2018
Regardless of quality, these are the films that are pretty much guaranteed to end up on the 'highest-grossing' list.
How well do you
really

know your competitors?

Access the most comprehensive Company Profiles on the market, powered by GlobalData. Save hours of research. Gain competitive edge.
Company Profile – free sample
Thank you!
Your download email will arrive shortly
Not ready to buy yet? Download a free sample
We are confident about the unique quality of our Company Profiles. However, we want you to make the most beneficial decision for your business, so we offer a free sample that you can download by submitting the below form
By GlobalData
There's basically no chance that any of these will make it into awards consideration, but that's really not the point. If you're looking for big stars, big spectacles, and big marketing campaigns, these will be the ones to watch.
Will they be any good? Who knows! And frankly, as far as the studios are concerned, who cares?! They'll make a tonne of money either way.
Fifty Shades Freed
Release date: 9 February 2018
The final instalment in the Fifty Shades franchise sees the BDSM-duo married and living happily ever after. Obviously this wouldn't be any sort of film without some conflict and that comes in the form of Ana's old boss. He wants revenge after Christian Grey got him fired in the previous film.
And Christian's sexy skeletons also come out of the closet to haunt him too. Kim Bassinger plays his former dominatrix Elena who has designs on him.
Will it be good? Don't count on it. Will people go to see it? Probably. But if nothing else, at least this film means the whole series is finally over!
A Wrinkle In Time
Release date: 9 March 2018
The first big play from Disney of 2018, and probably the first major blockbuster of the year. Directed by Selma's Ava DuVernay, A Wrinkle In Time will mark the first occasion a black woman has been invited to direct a film with a budget of over $100m.
The film centres on the character of Meg Murry, a young girl who discovers her father has been kidnapped by aliens. She, her younger brother, and a classmate have to save him with the help of three mysterious astral travelers played by Oprah Winfrey, Reese Witherspoon, and Mindy Kaling.
Ready Player One
Release date: 30 March 2018
Spielberg is spielback again! Hot off the success of his smaller, more grounded movie The Post, Steven Spielberg is gearing up to blow audience's minds in Ready Player One.
The film will feature a young man, Wade Watts, adventuring through a VR video-game dreamscape attempting to discover a prize which will lead him to fortune and success.
Meanwhile, a shadowy organisation aims to stop him in his tracks. Considering VR has been done to death both on and off the big screen, Ready Player One might prove to be a tough sell, but Spielberg is bound to go hard on marketing this one.
Avengers: Infinity War
Release date: 4 May 2018 (USA)
Ten years, 19 films, 10 TV shows, and countless comic moments adapted, and this is what it's all been leading up. The Marvel Cinematic Universe finally comes together. After all that planning and preparation you'd really hope Marvel have got some really good up their sleeve.
The film will depict all of the Marvel superheroes teaming up to save the planet from Thanos, an alien warlord who comes to Earth to claim the infinity stones. These have appeared in various Marvel movies over the years and are a collection of cosmic gems that confer extraordinary powers on those who wield them.
Will Thanos get his way? Don't count on it.
Solo: A Star Wars Story
Release date: 25 May 2018 (USA)
After a seriously rocky development period which saw the film's directors Phil Lord and Chris Miller unceremoniously dropped from the project, Solo: A Star Wars Story is here. As you might have guessed from the title, this one focuses on Han Solo, acting as a prequel to A New Hope which will explain how Han Solo became a smuggler.
The plot is being kept tightly under wraps but the film is being billed as a space western. It will star Alden Ehrenreich as the title character, alongside Woody Harrelson, Emilia Clarke, and, most excitingly, Donald Glover as a young Lando Calrissian.
Deadpool 2
Release date: 1 June 2018 (USA)
A sequel to the 2016 mega-hit superhero comedy. Again, the plot is being kept secret but we'll see Deadpool teaming up with all his old friends from the first movie, as well as Cable, a time-travelling cyborg from the future who is the son of X-Men's Cyclops.
With Ryan Reynolds at the helm once again, you can probably expect more of all the things you loved about the original Deadpool, but with a much bigger budget thanks to the unbridled success of the first film.
The Incredibles 2
Release date: 15 June 2018
Just under 14 years after the original's release date we're finally getting The Incredible 2. Director Brad Bird stalled the movie for years after not being able to come up with a fitting story line for his characters. He seems to have cracked it now though, and Pixar were more than happy to welcome everyone's favourite superhero family back again.
This film is more focuses on the career of Elastigirl, the family's matriarch, than Mr. Incredible himself. However, as the father of the family takes care of his kids (including discovering his baby son Jack-Jack's powers) they find themselves drawn another plot to destroy the world from The Underminer, the villain glimpsed in the original film's closing moments.
Jurassic World: Fallen Kingdom
Release date: 22 June 2018 (USA)
Whatever you thought of Jurassic World, there's no denying it was popular.
The film became the third-highest grossing film worldwide in 2015 (only to be swiftly knocked off that perch by Star Wars: The Force Awakens.) While it was harshly criticised in some quarters, most fans agreed that the film was a worthy sequel to the classic original.
This summer, we're heading back to Isla Nublar where the island's volcano is threatening to destroy all the dinosaurs who were freed at the end of the last film. Owen Grady and Claire Dearing from the last film must team back up to save them.
Oh, and there's an extended cameo from Jeff Goldblum, and if that isn't worth a watch, what is?
Mamma Mia! Here We Go Again
Release date: 20 July 2018
If you thought the first film was unnecessary you're going to hate this. Starring Cher, this new Mamma Mia! movie travels back to explore the origins of Donna, the matriarch of the first film. Because apparently that was the film the world needed.
All the cast members from the original are back to reprise their roles. Plus there's more Abba songs than ever. So, yeah. Good.
Still, whether it's necessary, well-made or even good is probably besides the point. The original made $610m worldwide. That's nearly 12 times what is cost to make.
Fantastic Beasts: The Crimes Of Grindelwald
Release date: 16 November 2018 (UK and USA)
And onto a film which is looking less likely to make money than ever. After Fantastic Beasts And Where To Find Them revealed Johnny Depp as Grindelwald at it's climax, fans were shocked.
Unfortunately for JK Rowling and pals, just before the movie's release date, Depp was accused of assaulting his then-wife Amber Heard. What followed were accusations of all kinds levelled at Depp, including his unprofessionalism on the set of Pirates Of The Caribbean: Dead Men Tell No Tales. Awkward.
Since then, both director Christopher Columbus and writer and executive producer JK Rowling have been scrambling to explain why Depp was kept on board and why giving him the title role in this film was a good idea.
The plot of this new film is, once again, under wraps. However, it will be partially set in Paris and will feature most of the original film's characters.
This time, a young Dumbledore will task the hero Newt Scamander with assisting him in a plot to stop Grindelwald who is creating an army of dark wizards to create a new master race of magical folk.
Mortal Engines
Release date: 14 December 2018 (USA)
After a mysterious event (implied to be a nuclear war between the American Empire and Greater China) the Earth has been reduced to a barren wasteland.
Humanity is contained within 'traction cities'. These are huge hulking cities on wheels that ride around the continents eating (tearing apart and stripping for parts) smaller cities. After his hometown, London, eats the small mining town of Salthook, Tom Natsworthy meets Hester Shaw.
After she attempts to assassinate his boss, Tom finds himself on the run with Hester. Alone in the wastelands, they are pursued by Shrike, an undead cyborg.
Bumblebee: The Movie
Release date: 21 December 2018
It's a Transformers spin-off about Bumblebee. That's all you need to know. There'll be explosions and it'll probably make far more money than it deserves to.
Hailee Seinfeld is the lead and Michael Bay has passed directing duties to Travis Knight. Don't think about it too hard, it'll make your brain hurt.
Aquaman
Release date: 21 December 2018 (USA)
After the critical drubbing received by Justice League it should come as no surprise that Aquaman is (so far) the last movie release of the DCEU. Everything else seems to be struck in development hell, which might be for the best. For DC, this means Aquaman is the final chance to prove they can do this whole 'cinematic universe' thing. Is it possible? Who knows?
But, to be fair, the standalone Wonder Woman movie was the first (and last) good DCEU film, so maybe this one can repeat that success. To be fair, Jason Momoa's title character was rather charming in Justice League so perhaps it'll all come together!
The best of the rest for 2018 cinema
Don't expect these ones to pull in anything like the numbers of those mentioned above, but these mid-tier films will fill out the cinemas throughout the rest of the year.
There's some brilliant, fun, original concepts here and in terms of quality, many of these are likely to exceed the major blockbusters of the year.
January 2018 movie calendar
Proud Mary
Release date: 12 January 2018 (USA)
Bad-ass female action hero? Check. Diverse casting? Check. Exciting-looking trailer? Check.
Proud Mary looks to start 2018 with a bang with the story of a professional assassin whose life spirals out of control when she accidentally orphans a young boy. It certainly looks fun and we'll be excited to see more.
Three Billboards Outside Ebbing, Missouri
Release date: 12 January 2018 (UK)
If you're going to be placing any bets on what's likely to win Best Picture at this year's Oscars, this one is probably quite a safe bet. Martin McDonagh's dark comedy finds a distraught mother battling the local police as she seeks resolution for the case of her daughter who was raped then burnt to death.
Unfortunately, the chief of police is a popular, well-liked man in the town. Thus, her actions draw her into conflict with many people throughout the area. A stark, poignant, often humorous glimpse into the world of grief and small-town crime.
12 Strong 
Release date: 19 January 2018 (USA)
If you're into war-films and general American patriotism then you'll probably love this Chris Hemsworth-starring movie. 12 strong follows an American paramilitary group who, just after 9/11, are dispatched to Afghanistan to help conduct unconventional warfare against the Taliban.
The 12-strong group end up being known as the horse soldiers thanks to their preferred mode of transport.
Coco
Release date: 19 January 2018 (UK)
Having been released in America in the middle of last autumn, Coco is finally coming across the pond. Pixar's newest classic is Dia de los Muertos-themed and plenty of research was done to make things as culturally sensitive as possible.
The story is all about a little boy who dreams of being a musician like his hero.
Unfortunately, his family have banned music thanks to a tragedy that took place in the past. The boy goes on an adventure to the mystical land of the dead to meet his hero and learns that if he doesn't achieve his mission in time, he will disappear forever.
The Post
Release date: 19 January 2018 (UK)
That The Post has been quite so well-received is both surprising and unsurprising. The surprising part is that the film was a total rush job which started production almost as soon as Trump entered the White House and was fired out in order to be an awards contender at the end of 2017.
On the other hand, it's a Spielberg film so it was always going to be good.
The Post is a big Oscar-contender. It tells the story of the Washington Post's decision to publish the Pentagon Papers. These were a scandalous series of documents detailing the actions of the United States government during the Vietnam War.
These papers proved the government had widened the scope of the war and had lied to both the public and congress. With Meryl Streep starring as America's first female newspaper publisher, Kay Graham and Tom Hnaks as the Post's editor, this one was always destined to be a classic.
Early Man
Release date: 26 January 2018 (UK)
It's been a long time since we last saw one of Aardman's delightful stop-motion films, but this one looks set to bring them back with a bang. Eddie Redmayne voices Dug, a caveman whose tribe is living through the stone age. However, over the course of the film he learns the next village have entered the Bronze Age.
As the Bronze-Agers invade his valley, Dug must unite his tribe to stop them and save the day. This one is guaranteed to be popular with kids and adults alike, so it'll definitely be worth checking out!
February 2018 movie calendar
Peter Rabbit
Release date: 9 February 2018 (USA)
No film since the Ghostbusters remake has had such as controversial trailer as Peter Rabbit. What could be so scandalous about this innocuous bunny that journalists would be writing about Beatrix Potter spinning in her grave?
Well, the trailer depicts Peter twerking, 'making it rain' with lettuce leaves, and smashing into a troop of singing birds. Worse yet, the trailer describes trousers as pants.
Of course, the film raises legitimate points about whether James Corden is simply in too many things but aside from that, it looks charming enough. In the vein of the recent Paddington movies, Peter Rabbit looks like plenty of family fun that'll keep the kids entertained.
The story focuses on Peter and his old enemy Farmer McGregor fighting for the affections of a new wildlife-loving next-door neighbour.
The Shape Of Water
Release date: 14 February 2018 (UK)
Another likely Oscar-contender. The Shape Of Water comes from visionary director Guillermo Del Toro, famous for creating Pan's Labyrinth. Will it prove more memorable than that classic?
Quite possibly. The film centres on Elisa, a mute caretaker at a secret US government facility. One day, the scientists bring a new discovery to the location: a fish-man monster found in the Amazon. They intend to dissect the creature to help them defeat the Russians in the Cold War.
However, after forming a romantic bond with the monster (just go with it) Elisa concocts a daring plan to rescue him. It sounds bizarre and it is. But it's also a joyful, bright, soulful movie that plays like a cross-between Hammer horror classics and Singin' In The Rain.
If you want a movie to make you smile, this is it.
Black Panther
Release date: 16 February 2018 (USA)
The very final Marvel movie before the whole gang teams up for Infinity War.
Based on the Black Panther character who audiences first met in 2016 in Captain America: Civil War this one will break ground by introducing one of the Marvel's first and more noteworthy non-white superheroes. Even better, it is also the first Marvel movie to centre on a non-American character. This time the main character is T'Challa who is the king of the fictional African nation of Wakanda.
He must unite his country as they enter the world stage and battle some villains to prevent a world war. So far, so Marvel, but with a historically non-diverse creative team, Black Panther may prove to be quite refreshing.
Lady Bird
Release date: 16 February 2018 (UK)
If there is any justice in the world then Lady Bird will win Best Picture and Greta Gerwig will win Best Director at the Oscars. Unfortunately, there usually isn't, so on account of Gerwig's gender, don't count on either of those.
Instead of hoping for the Academy to move with the times, everyone should do their bit by going to see Lady Bird. In some ways the film is a classic high school comedy movie.
However, where most films in that gender deal with youthful concerns; passing classes, getting a date to prom, finding self-acceptance etc; Lady Bird delves a little deeper.
The film centres on the relationship between Christine Lady Bird McPherson and her mother. Like every teen, Lady Bird loves to rebel against her parents, forcing a disconnect with a mother who is trying her best to deal with the family's meagre finances and her husband's depression.
The film has real insight into the way families work, and treats all its characters with care, compassion, and warmth. Plus there's barrels of comedy and joy. Definitely worth seeing.
Annihilation
Release date: 23 February 2018 (USA) and streaming internationally on Netflix from 12th March 2018
After being stuck in development hell, losing various filmmakers, and generally being shuffled about a lot, Annihilation is finally ready to be shown.
The film's central character is Natalie Portman's Lena, a biologist. When her husband returns from investigating an environmental disaster zone in a bad condition, she is persuaded to go in an investigate the area. She and the rest of her team (including Tessa Thompson and Jennifer Jason Leigh) discover a world where various animals are mutating together.
Unfortunately, they ended up being hunted by some of these creatures. The book trilogy on which this film is based has won dozens of awards and has become a real modern classic, so this film really looks like it'll be worth a watch.
The War With Grandpa
Release date: 23 February 2018
Don't expect to see too much promotion of this one. Unfortunately, there's no getting away from the fact that this is a Weinstein film, and, as such, will most-likely be judged in light of the allegations of sexual assault made against him.
It's a bit of a shame really because The War With Grandpa sounds like a genuinely sweet movie at its core. A little boy conspires to get rid of his grandpa (Robert DeNiro) after he is turfed out of his bedroom when the latter comes to visit.
Ironically, it could probably have avoided all the controversy as it was originally due for release in April 2017, however, after needing some reshoots last October, it has landed itself right in the line of fire.
March 2018 movie calendar
Red Sparrow
Release date: 2 March 2018 (USA)
Jennifer Lawrence plays a sexy Russian ballerina-turned assassin. You can almost hear the sound of men online jumping for joy. Still, if it can avoid overly-sexualising its female lead and gives us another kick-ass feminist action hero, then we're here for it.
Jennifer Lawrence is one of the highest paid female actors of our day and rightly so: she's yet to release any real stinkers (except maybe mother! but that was hardly her fault!) so we can probably expect big things from this one.
The film's central concern is whether Lawrence's character Dominika Egorova should become a double-agent after falling for Joel Egerton's leading man, a CIA officer. For Bond fans, Red Sparrow might be the perfect thing to tide you over until the next film comes out.
Love, Simon
Release date: 16 March 2018
Up until recently, everyone in the gay community knew that there were really only two different kinds of gay films.
You had coming out comedies or AIDS-crisis tragedies. That was literally it. Of course, with recent hits like Moonlight, Call Me By Your Name, Carol, and 120BPM (beats per minute) we've started to see a bit more nuance in the way that gay characters are depicted on film.
And long may that reign. With that in mind, Love, Simon does feel like a bit of a throwback. It is, for all intents and purposes, a traditional coming-out comedy.
However, from the mind behind the wonderfully charming DCTV Universe (not to be confused with the big-screen mess) Greg Berlanti at the helm, Love, Simon may just surprise us.
The film is about, you guessed it, Simon. His private emails to his penpal fall into the wrong hands and Simon is forced to play wingman for his blackmailer.
In an age where coming out isn't nearly as frowned upon as it once was, Love, Simon will have to find some big reasons to justify its existence, but seeing more LGBT stories depicted on screen could never be a bad thing and the early trailers suggest this one is going to be worth a look.
Tomb Raider
Release date: 16 March 2018 (USA)
Movies based on video-games very rarely work out. Almost all gamers will tell you the same. However, this one is hoping to buck the trend and honestly, it looks like it might just succeed. Tomb Raider stars Alicia Vikander as Lara Croft.
Based on the 2013 reboot of the games, the adventure will take Lara Croft right back to her first expedition as she visits tombs on an ancient island to complete her father's research.
There's a lot of potential for cliché and sloppy story work here, but if the filmmakers can navigate those perilous waters, Lara Croft might be 2018's Wonder Woman.
Sherlock Gnomes
Release date: 23 March 2018
Who in their right mind could ever have conceived a follow-up to 2011's Gnomeo And Juliet. Once again, this one feels like a movie where the title came first and the rest of the film was probably put into place afterwards.
But hey, it worked alright last time so why not? This time, a spate of missing garden gnomes forces Gnomeo and Juliet to recruit Johnny Depp's Sherlock Gnomes and his sidekick Gnome Watson (yeah, that one's not as good) to crack the case. Hopefully without cracking themselves.
Get it? Because they're made of porcelain? It's funny. And don't be surprised if that joke rears its head at least once in this film.
Pacific Rim: Uprising
Release date: 23 March 2018
If at first you somehow succeed (despite having a bizarre concept and a schlocky sci-fi-stuffed nonsense plot) grab John Boyega and milk your franchise for all that it's damn well worth! For those who missed the first one, giant sea monsters started appearing and destroying civilisation.
To combat them, humanity made a tonne of gigantic robots. These would be piloted by two humans at once using a psychic link. The sequel looks like more of the same. The monsters are back and humanity must once again jump inside some giant robots to defeat them.
So far, so meh, but John Boyega from Star Wars is here this time, so we're prepared to give it a chance.
Isle of Dogs
Release date: 23 March 2018
If you ask millennials who their favourite film director is, you'll probably hear Wes Anderson's name a lot. After some truly stellar movies including Fantastic Mr. Fox and The Grand Budapest Hotel, Anderson has cemented himself as one of the greats.
Isle Of Dogs looks to be a return to the wacky stop-motion look of Fantastic Mr. Fox and it looks incredible.
An all-star cast will fill the story which seems just as wacky as Anderson's usual films. In a dystopian future, Japan has packed off all their dogs to live on a remote garbage island thanks to a 'canine flu' having decimated the population.
The dogs are tired of their isolated existence. However, things perk up when a little boy called Atari comes to their island to find his beloved pooch, Spots.
The dogs join his quest to find Spots and promise to help keep him safe from the Japanese authorities who have come to retrieve him.
April 2018 movie calendar
You Were Never Really Here
Release date: 6 April 2018
This one is a bit of a smaller movie but it's definitely worth taking a look at. When the film premiered at the Cannes International Film Festival it got a seven minute standing ovations. Seven minutes! Director Lynne Ramsay was subsequently hailed as one of the greatest filmmakers alive and the film described as "a masterclass in filmmaking".
High praise indeed.
The movie is an exceptionally violent thriller revolving around Joaquim Phoenix's Joe, an enforcer who is tasked with rescuing a young girl from a luxury paedophile ring.
Having achieved his mission, he then has to save the girl and battle his own personal traumas too. In terms of concepts, it's really out but there's no denying the popularity of this one among critics. Hopefully audiences will enjoy it just as much.
The New Mutants
Release date: 13 April 2018
While 20th Century Fox may have introduced superhero movies as we know them with X-Men, they've been stuck in a rut for a while. While Marvel and DC have been pumping out their big superhero team-ups for a while now, the poor old X-Men are beginning to look increasingly irrelevant.
Then along came Deadpool in 2016 to show Fox a new way. While DC and Marvel squabble over classic superheroics, Fox are carving out a new, more adult-oriented path.
Instead of classic superheroes as we know them, The New Mutants finds its characters damaged and broken. The X-Mansion is far away for these super-powered kids locked away in an insane asylum for mutants.
Unfortunately, some spooky goings on will see this film acting as more of a horror movie than a superhero one. It's an exciting departure for Fox and the X-Men and we're thrilled to see what comes of it.
Untitled Cloverfield Movie
Release date: 20 April 2018
Originally due in February, distributors announced just a month before release that this film, formerly known as The God Particle is being pushed back to April. They gave no reasons for this change. It's unknown how the movie will tie into the mysterious Cloververse.
It's a cinematic universe that isn't really a cinematic universe based on Cloverfield and 10 Cloverfield Lane. We're still not sure how this movie fits into it all but we do have some idea of the plot.
This sci-fi horror will deal with a group of scientists on a space station working with a particle accelerator. Unfortunately, their efforts end up making the Earth disappear from reality – awkward. When a space shuttle arrives, a dramatic fight for survival ensues.
May 2018 movie calendar
Slender Man
Release date: 18 May 2018
After being created as an entry for a 2009 Photoshop competition, who'd have thought Slender Man would go on to become such a horrifying figure, transcending his internet beginnings to drive some young people to crimes in real life.
If you've not come across the Slender Man mythos online the concept for this film will probably be somewhat confusing. In essence, Slender Man is a character who shows up and drives children and young adults to insanity.
These afflicted young people then carry out violent attacks in Slender Man's name before disappearing to join this ethereal creature.
The film's plot is still anyone's guess, but given the creature's origins online and real-world impact, it seems likely that the film will generate plenty of discussion as it nears release.
June 2018 movie calendar
Ocean's 8
Release date: 8 June 2018
In the spirit of new movies with a strong female role model leading the cast, Ocean's 8 arrives to give us not one awesome woman but a whole bevvy of them.
In this modern take on the classic heist movie, Danny Ocean's estranged sister, Debbie, creates a crack team of female masterminds to steal from the star-studded Met Gala.
With an all-star cast including Sandra Bullock, Cate Blanchett, Anne Hathaway, Rihanna, Mindy Kaling, Sarah Paulson, Helena Bonham-Carter, and Awkwafina, the movie is a veritable who's who of the top female names of 2018. Safe to say, the film looks unmissable.
On Chesil Beach
Release date: 15 June 2018
The second film of the year (after Lady Bird) to star Saoirse Ronan and just like in the first, she's insanely brilliant in this one.
Ostensibly the majority of the film plays out in a hotel room in July 1962. Newly-weds Florence and Edward have an uncomfortable dinner and console themselves with memories of how they first met and became a couple.
The film continually flashes back to their early days so the audience can watch their relationship blossom. Unfortunately, their awkward attempts to consummate their marriage end in heartbreak and tragedy.
It's a truly beautiful moving love story that's certain to provoke tears from audiences by the end. Having seen it at London Film Festival in October, we heartily recommend it.
July 2018 movie calendar:
Ant-Man and the Wasp
Release date: 16 July 2018
Marvel's blandest superhero returns in the studio's first ever movie which puts a female hero in the title. So that's good.
Expect standard superhero fare for this one, but Paul Rudd is always good fun, and new character Janet Van-Dyne played by Michelle Pfeiffer looks set to be pretty cool. Plus, Evangeline Lilly is stepping up as another major female hero which Marvel is desperately in need of.
Honestly, the most intriguing part about Ant-Man and the Wasp is that its presence seems to confirm that Infinity War will have a definitive end-point to allowing a bit of breathing room for the characters in this film.
Before that we'd kind of assumed Infinity War might end with Thanos taking over Earth and things looking pretty dicey for the Avengers, ready for them to fix things in the follow-up film due out next summer. But apparently that's not the case.
Alita: Battle Angel
Release date: 20 July 2018
Another James Cameron movie. Yay. Legend has it that James Cameron was working on Alita: Battle Angel when the technology he wanted for Avatar was finally ready.
Thus, Cameron dumped this for that and the world got the highest-grossing film ever instead. As James Cameron is producing, expect this one to make millions regardless of whether it's any good. C'est la vie.
Alita: Battle Angel is an adaption of a manga series about a cyborg who has lost all her memories and is repaired by scientists.
She then goes on to hunt down and murder other evil cyborgs. Cameron is apparently adapting the first four books from the series and was desperate to include 'Motorball' a brutal sport that Alita plays.
After the release of the first trailer, many viewers were grossed out by the uncanny look of the main character. Time will tell whether or not audiences can look past that issue but if you're not into sci-fi or manga, there's a good chance you won't find much to like here.
August 2018 movie calendar:
The Spy Who Dumped Me
Release date: 3 August 2018
Originally due for a July release, it was pushed back to August to ensure it had less competition after a phenomenal screen testing. The titular spy is none other than Mila Kunis who finds herself thrown back into the game when her ex-boyfriend shows up with assassins on his trail.
She and her best friend, played by Kate McKinnon must kick some ass and save the guy while getting to the bottom of why the hit men are after him.
It might sound a little silly, but don't worry, the film is intended as a comedy. Considering Mila Kunis and Kate McKinnon are two of the great comedy actors of our age, this one might just transcend expectations.
Scarface
Release date: 10 August 2018
We're going to include this one because it has a release date, but don't count on it ever seeing the light of day.
Still in pre-production, this Scarface reboot almost certainly won't be out by 10 August. Unless, cameras start rolling tomorrow, the shoot is ridiculously short, the film relies on next to no special effects, and a distributor is already good to go, it absolutely won't be out in time.
This reboot seeks to marry common elements from the previous Scarface movies and put them in a contemporary crime context. Diego Luna from Rogue One is attached to star, and a script is apparently ready to go. But who knows?
This one seems unlikely at best.
Crazy Rich Asians
Release date: 17 August 2018
Another comedy which looks set to push Hollywood's boundaries, this time because it features and is about Asian people, a group who often have to fight for recognition in Hollywood.
The central protagonist is Rachel Chu, an American-Chinese economics professor who discovers that her boyfriend is the heir of one of the richest families in China. During a trip to a mutual friend's wedding in Singapore, Rachel learns the truth.
She also finds out that half the country wants what she has. The film explores the lives of Asia's rich and famous as they battle to stay on top and seek approval from the outside world.
September 2018 movie calendar:
Johnny English 3
Release date: 20 September 2018
A surprising sequel to 2011's Johnny English Reborn which was itself a surprising sequel to 2003's Johnny English.
Still, both the previous movies have been barrels of fun, so we're glad to see this franchise being resurrected once again. The film's plot is totally unknown at this point but presumably it will once again involve the comedy capers of Rowan Atkinson's Johnny English, Britain's most inept super-sleuth.
Delightfully, Ben Miller is back as Angus Bough, Johnny's sidekick (presumably because Daniel Kaluuya who played a new character with a similar role in the second outing is now too big thanks to the success of Get Out).
Who knows what this one will hold, but it's sure to be a delight for the whole family to enjoy.
Robin Hood
Release date: 21 September 2018
The Robin Hood story has been done to death in almost every sphere. Books, films, TV shows, video-games, and comics have all covered the story of Nottingham's most famous outlaw. So why should you care about yet another adaption?
Well, the real draw for this film is it's stellar cast. Kingsman leading man Taron Egerton is playing Robin, while Jamie Foxx is Little John. The Sheriff of Nottingham is Rogue One's sinister Ben Mendelsohn and Will Scarlett will be portrayed by Jamie Dornan from the Fifty Shades series.
As for the plot, we still don't know, but it'll likely be a medieval heist of some sort with swordplay and swashbuckling aplenty!
October 2018 movie calendar:
A Star Is Born
Release date: 5 October 2018 (USA)
You really can't get enough of a good thing, apparently. The original version of this film came out in 1937, followed by a remake with Judy Garland and James Mason in 1954, then lightning struck thrice in 1976 with Barbra Streisand and Kris Kristofferson.
This fourth version of the same musical stars Lady Gaga and Bradley Cooper in the main roles. How this one will differ from the original or any of the previous remakes is unknown but we do know that instead of being called Norman and Esther as usual, Cooper and Gaga's characters will be Jackson and Ally instead.
The plot seems reasonably similar though, with Cooper's character being a fading singer, and Gaga's an ingenue looking for her breakthrough.
When the former helps the latter achieve fame and success, he struggles when she starts to eclipse his own success. If you enjoyed La La Land then this is probably going to be one for you.
Venom
Release date: 5 October 2018 (USA)
If there's one lesson that Hollywood studios really need to learn it's this: stop trying to launch a franchise off the back of one movie. Venom starring Tom Hardy as the main character, is just that.
This is Sony's attempt to jump back into the superhero game after the despicably awful The Amazing Spiderman 2 forced them to temporarily lease the character back to Marvel before audiences could grow to hate him entirely.
Rummaging around in their big bag of characters they still have the rights to, Sony have begun working on Venom a Spidey-free movie about a classic Spiderman villain.
Sony have tried to work on a Venom film for literally years. The character first appeared in Sam Raimi's Spider-Man 3 all the way back in 2007 and was due to be spun-off then.
When that didn't pan out, they plotted to do it again after Amazing Spiderman 2 but (due to trying to spark off a movie universe off the back of one, incredibly-overstuffed movie) that fell through.
So this is attempt number three. We'll see what happens with that.
First Man
Release date: 12 October 2018 (USA)
Sure to be an award's contender, this is Damian Chazelle's first directorial effort since the mega-hit La La Land. Can lightning strike twice? Probably. A historical biopic film celebrating one of America's proudest achievements to date? If this doesn't get the Academy going nothing will.
The film, as you may have guessed, stars Ryan Gosling as Neil Armstrong and will explore NASA's attempts to put the first man on the moon. Unlike 2016's Hidden Figures this one really focuses on Armstrong, the public face of the moon-landing.
Expect much fanfare when it finally comes out. Also expect dozens of think pieces about whether or not the moon-landings were faked. Because that's what the internet is like.
Mowgli
Release date: 19th October 2018 (USA)
In some ways, it's rather a shame that Disney managed to beat this film to cinemas with their own live-action Jungle Book. We say that because Disney's seems that bit more cynical; just another remake of one of their classic animated movies, rather than a real desire to readapt Rudyard Kipling's classic. But oh well.
Andy Serkis is behind the camera for this one which looks set to be an instant-classic. With an all-star cast, Mowgli represents a real shift in the telling of the classic tale. This version will focus on the upbringing of the man-cub in the jungle, and all the animal friends that helped raise him.
The real challenge Serkis faces (which plagues all Jungle Book adaptions) will be creating a coherent narrative out of a source material that is, in essence, a series of loosely-connected sketches with various animals.
November 2018 movie calendar
X-Men: Dark Phoenix
Release date: 2 November 2018
X-Men in space. While we're very excited about the upcoming The New Mutants, Fox is really hedging its bets in 2018. Sure, they're striking out in bold new directions with that other X-Men film, this one looks like much more standard superhero fare.
A follow-up to X-Men: Apocalypse set in the 1990s, Dark Phoenix sees a space-faring X-Men mission bring Sophie Turner's Jean Grey into contact with some weird space energy which greatly boosts her powers.
The X-Men must then battle a shape-shifting alien and Magneto's forces for the soul of Jean Grey.
This is more-than-likely going to be the final film with James McAvoy, Michael Fassbender, Jennifer Lawrence, and Nicholas Hoult, so let's hope it's a good one!
The Nutcracker And The Four Realms
Release date: 2 November 2018
It's been a while since Walt Disney Studios released a fantasy film that wasn't an adaption of one of their old cartoons. Still, better late than never. The Nutcracker And The Four Realms is a retelling of Tchaikovsky's classic ballet.
For those who haven't seen it, the plot is pretty simple. A young girl is gifted a Nutcracker on Christmas eve. Late at night, she sees the Nutcracker come to life and battle a tonne of mice and their king.
Just as he is about to be killed, the girl saves him from the mouse and together they venture into a magical kingdom. There, it's revealed that the Nutcracker had actually been a handsome prince all along.
Who knows what Disney will make of this one, but it's sure to be an absolute classic.
Holmes and Watson
Release date: 9 October 2018 (USA)
You have to feel a bit sorry for poor old Will Ferrell. While his old 'Frat Pack' pals Ben Stiller, Steve Carell, and Vince Vaughn have all moved on to more mature, sophisticated films, Ferrell can't help but limp on, continuing to perform in these childish, gross-out, slapstick comedies.
Holmes and Watson looks set to continue in that vein. It's a retelling of the classic Sherlock Holmes mysteries with a comedy filter. Wahoo.
John C. Reilly plays Watson, Hugh Laurie is Mycroft Holmes, and Ralph Fiennes is Moriarity. It will almost certainly not be groundbreaking.
The Grinch
Release date: 9 November 2018 (USA)
From the studio which brought us those blasted yellow tic-tacs, the Minions, comes a new animated version of The Grinch. As ever, Dr. Seuss' green anti-hero is trying to ruin Christmas for all the citizens of Whoville, accompanied by his faithful reindog, Max.
This time, Benedict Cumberbatch plays the title character. This proves once and for all that not every voice role has to be performed by James Corden.
Ralph Breaks The Internet: Wreck-It Ralph 2
Release date: 21 November 2018
Then again, don't get used to it because James Corden is showing up as a vocal role in this sequel to the acclaimed Wreck-It Ralph. Set six years after the original, someone has plugged a Wi-Fi router into Ralph's arcade and thus, Ralph and Vanellope von Schweetz get to take a trip into the world of online gaming.
For Disney fans the most exciting part is that every single one of the Disney princesses will have a cameo in the movie, mostly all voiced by their original actors. In addition, C-3PO, R2-D2, and Princess Leia from Star Wars will feature as well as Marvel's Iron Man and Gamora.
And if you felt, as a love-letter to gaming, there aren't enough video-game characters in this line-up, fear not. The world's most famous plumber will be in the movie! That's right folks, Super Mario is in the house!
December 2018 movie calendar
Mary Poppins Returns
Release date: 25 December 2018
Ever considered what the longest gap between film sequels was? Well, 54 years has got to be pretty close, right?
But still, with a character as classic as Mary Poppins, time is but a trifling matter. If you thought Disney's slate was a bit light for 2018, that's probably because they're gearing up to release a sequel to this, one of their most beloved movies of all time.
PL Travers' follow-up books are providing the film's plot. Mary Poppins is returning to the Banks family after the children Jane and Michael have grown up.
Unfortunately, Michael and his children, Annabel, Georgie, and John have suffered a family tragedy, thus Poppins is back, along with Jack, a lamplighter and apprentice to Bert from the original film. Emily Blunt will play Poppins, while Meryl Streep is also on the scene as her cousin, Topsy Turvy-Poppins.
Will this film tarnish the original's legacy? Well maybe, but Disney would probably have only brought Poppins out of retirement for a good story!
Bohemian Rhapsody
Release date: 25 December 2018
A biopic all about Freddie Mercury and Queen? What the heck took them so long? Well, good question, but to be fair, the film has been in development since around 2010.
It's not like they haven't been trying. The production finally got off the ground in July 2017, but unfortunately, it hasn't been plain sailing.
Director Bryan Singer was thrown off the film in December 2017 after numerous clashes with cast and crew alike. Thankfully, a replacement appeared almost immediately. The film was able to proceed without him.
Rami Malek will play Freddie Mercury, with Gwylim Lee as Brian May and Ben Hardy as Roger Taylor.
Speaker of May and Taylor, the real-life Queen guitarist and drummer (respectively) are fully on board for the film.
The pair have served as music producers, so don't worry. Bohemian Rhapsody has the official Queen seal of approval!