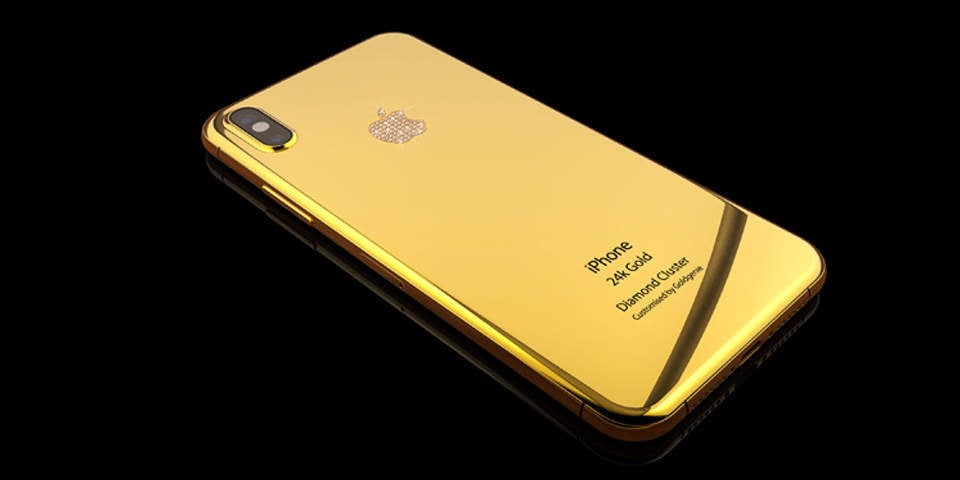 Among Android owners it's a widely held belief that die-hard iPhone fans have more money than sense.
After all, Apple haven't really innovated with their phones in a very long time. The iPhone 4 was probably the last iPhone to offer technology that was genuinely cutting edge when compared to its rivals.
Still, Apple persists in selling phones at exorbitant prices. Their most recent model iPhone 7 cost up to $849 when it launched, and that's not even including the plus-sized model.
Apple is expected to reveal iPhone 8 at their launch event next week on 12th September.
So far, nothing has been revealed, including price. However, some rumours suggest the new iPhone will cost over $1,000 at launch.
Still, that's peanuts compared to what one company are offering for their extravagant take on the iPhone 8.
All that glitters really is gold
Goldgenie, a London based luxury gift store, has opened pre-orders for a gold-plated iPhone 8 already.
The company, which also operates in Dubai, started offering gold iPhones with the iPhone 6 and then went on to repeat the idea with their gold-plated iPhone 7.
They've opened pre-orders for 24k gold plated phones, but they also do platinum and rose gold plating if you'd prefer.
If you really do like flashy accessories, they'll include diamond accents (such as the Apple symbol) for an additional fee.
Plating not good enough for you? Don't panic.
Goldgenie are also offering the option for them to take apart your phone and replace the casing with an 18k gold casing. Your phone can literally be made of gold.
You can also customize these glittering phones with a signature or a corporate logo or whatever you choose.
In addition to the iPhone 8, Goldgenie are also taking orders for the rumoured iPhone 7S. Time will tell whether Apple actually releases the latter, but Goldgenie are prepared either way.
Here's what the company did with the original iPhone 7 to give you an idea about what to expect:
Sim free LUXURY customised in precious metal iPhone 7 range. Only from #Goldgenie #Simfree #London Dubai #Goldplating #UAE @LindaHobden pic.twitter.com/ei2ZoSXRc2

— Goldgenie (@Goldgenie) November 17, 2016
How much do they cost?
The price for the embellished iPhone 7S hasn't been revealed but golden iPhone 8s will start at just under £2,600.
If you want one with diamonds on the Apple logo you'll be paying £3600. Obviously the models with larger memory will cost slightly more, just as with the non-gold versions.
However, that price will probably increase depending on which customisation options you pick.
The iPhone 7 with diamond accents and a year's concierge service costs £15,000. There will probably be similar options when the iPhone 8 golden edition launches.
Obviously they're very fancy but some might also argue they look a little tacky too. It's all down to personal taste, we suppose.