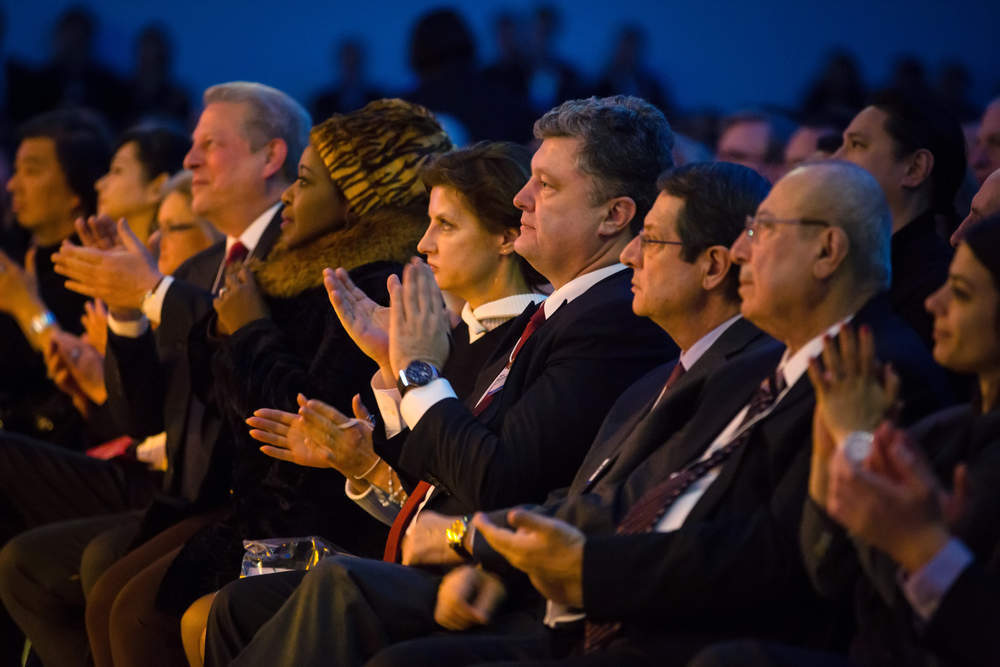 As the World Economic Forum (WEF) comes to a close, there's still plenty of news buzz around the event. It's no wonder, considering wealth and power of the Davos 2018 speakers.
From US president Donald Trump's plans to visit the UK to Microsoft founder Bill Gates' enthusiasm about the future of healthcare to Merkel's warnings about the dangers of populism; Davos 2018 has set the global agenda for the coming year.
Reporters in Davos have run themselves ragged trying to report on all the developments. It's fair to say that there have been plenty of statements that will change the world.
And it's not only on traditional media that we've heard grand statements. Social media has also lit up with tweets from the event. Of course, the majority of these have been very dignified, important, and serious. There are a few that are slightly less so, however.
Here are just a few of the best stories tweeted from Davos over the past week.
Someone finally managed to take a bad photo of Canadian prime minister, Justin Trudeau
With 132 Canadian listed companies, the @NYSE is considered Canada's 11 province. Great to join Prime Minister @JustinTrudeau to discuss the future of US/Canadian economic relations #WEF18 pic.twitter.com/u4vvUJ9MjE

— Thomas Farley (@ThomasFarley) January 24, 2018
Indian prime minister Narendra Modi was left out in the cold
Pm @narendramodi In #Davos #WorldEconomicForum2018 Heavy Snowfall in @Davos pic.twitter.com/QeEIuzgIzE

— Abki Baar 300 Paar 🇮🇳 (@AbkiBaar300Par) January 23, 2018
Trump got some beefed up security
Here in 🇨🇭 we use cows to protect the residence of @realDonaldTrump. #WEF2018 #Davos2018 #trumpinSwitzerland pic.twitter.com/5UV2Sh0krz

— Joël Müller (@Leosch_97) January 25, 2018
Trump admitted he'd never seen a piece of paper before
That's what I ask myself as well #wef18 #davos18 #trump pic.twitter.com/E8lDPufFMk

— Tanit Koch (@tanit) January 25, 2018
Theresa May's interview failed to impress but did lead to a nice punchline
#May speech in Davos.

Question: What was it about?

Answer: about 20 minutes. @hardingthehack @wef #wef18

— Markus Preiß (@markuspreiss) January 25, 2018
US secretary of state Rex Tillerson had some dinner table drama
A State Department official tells the pool that Sec. Tillerson is now sitting in a seat at the dinner table. https://t.co/ojyeVxp78S

— Vaughn Hillyard (@VaughnHillyard) January 25, 2018
There were some delightful Trump parodies out there
https://twitter.com/bill_mcbain/status/956607143695847424
The Circus is in Town! Thanks #WEF18 #trump #freakshow #everysecondcounts #switzerlandsecond @gangdeville @itsgreateu pic.twitter.com/2lZ48Vdx0B

— Karpi (bisher) (@karpi) January 25, 2018
Happy 13th Anniversary, Mel. I've found my life's true treasure in you. ❤️—-

As long as you love meI'll stay by your side.I'll be your companion,Your friend, and your guide.

As long as foreverMy love will be trueFor as long as you love me,I'll only love you. pic.twitter.com/yGA5pvyKv4

— Donald J. Trump (@niceDonaIdTrump) January 23, 2018
People were very taken with the appearance of Indian legend, Bollywood actor Shah Rukh Khan
Bollywood superstar @iamsrk visited the @Reuters_Davos bureau yesterday. Love those shades. 📷: @JurisAbramenko pic.twitter.com/XkqS5o0uvS

— Cassandra Garrison (@CassLGarrison) January 25, 2018
God knew Davos is too cold so he brought @iamsrk in to heat up the place! Man those dimples are EVERYTHING #SRKInDavos 😍❤️ pic.twitter.com/qbbAQzAOUz

— тнє ℓαѕт σf тнє ѕтαяѕ ✨ (@ThLastOfthStars) January 23, 2018
Happiness is about giving Love

Sir, please dont block 🙈😝🙏🏻#EqualityForAll #DavosDiaries pic.twitter.com/AovAWYAkT9

— Dr. Chitta (@stspring) January 23, 2018
He speaks very good . Well articulated BAADSHAH @iamsrk THANK YOU FOR LIVING IN THIS WORLD WITH US ALL 🙏👑 heart broken but extremely proud ❤️

— тнє ℓαѕт σf тнє ѕтαяѕ ✨ (@ThLastOfthStars) January 23, 2018
George Bush's deputy press secretary clearly had an axe to grind with a certain technology innovation
https://twitter.com/TonyFratto/status/956526108907843584
https://twitter.com/TonyFratto/status/956525325239902210
Meanwhile others couldn't get enough
https://twitter.com/Judekarma909/status/956612336344817665
Some people fought against the stereotype of Davos attendees being uncaring monsters
Lost my cell.. got wet in the snow.. an afghani owner of a falafel joint helped me on my way home! Human values exist@world economic forum@JSWGroup

— Sangita Jindal (@SangitaSJindal) January 23, 2018
Others battled the stereotype that business and pleasure shouldn't mix
My 1st pottery class! @beatrizceramics: "All about centering yourself in age of distraction" #wef18 @dw_business @dwnews pic.twitter.com/i8vcwaJtIa

— Ben Fajzullin (@BenFajzullin) January 22, 2018
Unfortunately, others were much happier to play up to the stereotypes
OH in Davos (I swear to you):"Gentlemen, gentlemen, gentlemen, GENTLEMEN. All I care about is money."

— Danielle Paquette (@DPAQreport) January 24, 2018
Only in #Davos you get a sign with "private car pick-up" direction alongside the "A day in the life of a refugee" exhibition. #Davos2018 #tonedeaf @tictoc #tictocnews pic.twitter.com/yFWsN3oLq9

— Javier Blas (@JavierBlas) January 22, 2018
This guy evidently hadn't realised Davos was in Switzerland when he booked his ticket
And now the snow is getting truly heavy… #Davos #wef18 pic.twitter.com/6nkkDFxdJb

— Tim Weber (@tim_weber) January 22, 2018
But these guys prepared
Met acharyas in Davos ,I asked them how will u perform yoga in this chilly ,snowy weather ,they replied we are from Haridwar where Ganga flows and we have blessings of @yogrishiramdev pic.twitter.com/ehWYaEKN2c

— Naveen Kapoor (@IamNaveenKapoor) January 23, 2018
The weather made transport a little interesting, and some visitors were absolutely thrilled
It's been a bumpy ride, but we finally made it to #davos #wef2018 pic.twitter.com/d3ABIdRVPs

— Viberate (@viberate) January 23, 2018
https://twitter.com/Timcast/status/955391987477250048
And the cold gave rise to some new forms of trading economies
This is how you do it in #Davos if you instantly need a warm hat: a high five in exchange for snow protection. #wef18 @dw_business pic.twitter.com/mgBu9LQQYH

— Sascha Quaiser (@SaschaQuaiser) January 23, 2018
Young people weren't particularly as impressed
Amazing tech from ETH shown to students by @YouthForumCh speaker Dario Wyss! pic.twitter.com/95kHHmaBai

— Fabio Paron (@FabioParon1) January 25, 2018
Overall though, it was business as usual. Business cards were swapped
Feeling jealous! Here is the business card of the chairman of LEGO. Contact details on his back. #wef2018 #Davos pic.twitter.com/u9cDVLhjoz

— Peter Zemsky (@zemskyp) January 24, 2018
People offered ground-shaking insights
The perceptions of people living in a place are different from those visiting it #Davos #WEF18

— Marco Taufer (@MarcoTaufer) January 25, 2018
Some offered important life advice
https://twitter.com/amonck/status/956604990629523457
But the absolute most important update from Davos came from NBC photographer, Paul Rigney
I've eaten an excessive amount of cheese while here in Switzerland and IT'S BEEN AMAZING

— Paul Rigney (@PaulRRigney) January 25, 2018