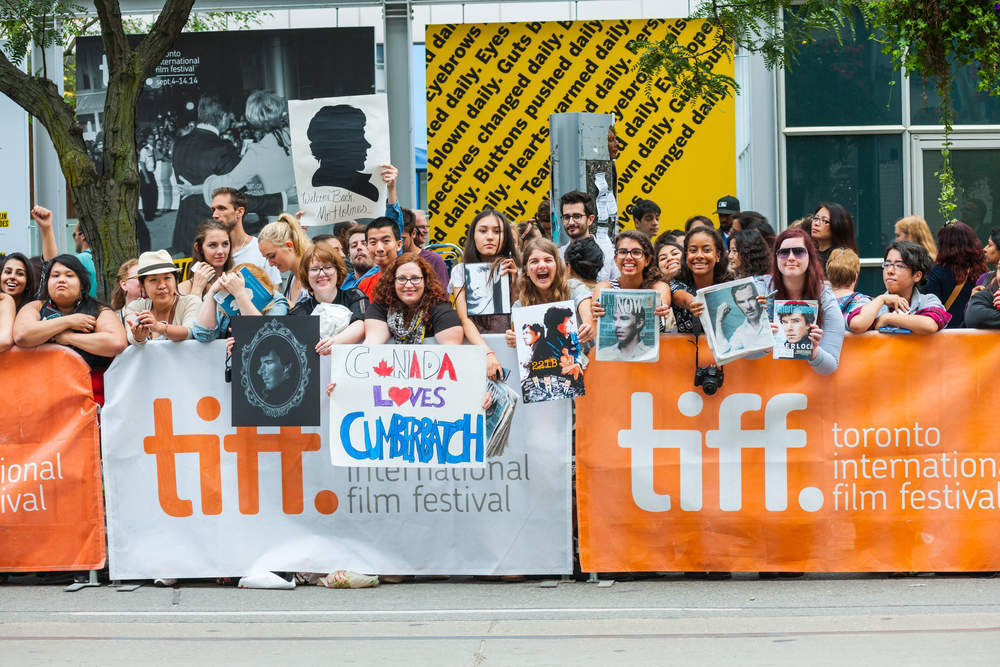 You may not have noticed it but the Oscars have already started. The stars might not be lining up on the red carpet yet. The films might not have even been released yet. No nomination announcements have been made yet. But make no mistake, the Oscars has begun.
Actually, for the film industry, the road to the Oscars began last month at the Venice Film Festival. Between then and the Oscars there are two major film festivals: The Toronto International Film Festival and the BFI London Film Festival. And make no mistake, it's here that the Oscars winners and losers will be decided.
Those films that receive acclaim at these crucial film festivals will jump straight to the top of The Academy's nominations list. Conversely, those that receive a critical drubbing will be hastily dropped, no matter how famous or important the people behind them.
With that in mind, we decided to take a gander at the films that seem to be generating the most buzz at this year's Toronto Film Festival so far.
Toronto Film Festival 2017's most talked-about films:
The good ones:
Kings
Synopsis: Millie is a hardworking single mom with a soft spot for strays. When Kings begins, she already has eight children living in her house and will soon bring home another. Her neighbour Obie is the local loose cannon, and the only white man in an area largely inhabited by African Americans, Latinos, and Koreans. With racial tensions running dangerously high, Millie and Obie would appear to be unlikely allies. Following the acquittal of four of the officers accused of beating Rodney King, riots erupt in Los Angeles following the 1992 and the pair must work together to bring Millie's kids home.
Starring: Halle Berry and Daniel Craig
What are critics saying?: Forthcoming.
I Kill Giants
Synopsis: Defiant, precocious, outspoken, and a loner, Barbara Thorson relates more to the make-believe world of Dungeons & Dragons. At home, she makes life difficult for her older sister, Karen, who is responsible for taking care of her and her brother. At school, psychologist Mrs. Mollé takes an interest in Barbara's increasingly worrisome behaviour. As she deals with loss and bullying, Barbara's imagined life begins spilling into her real one and she becomes obsessed with what she sees as her quest: killing giants. It's only when she's forced to face the truth and overcome her fears that Barbara is able to confront her demons.
Starring: Zoe Saldana, Madison Woolfe, Imogen Poots
What are critics saying?: Tasha Johnson for The Verge writes:
"I Kill Giants is particularly assured and remarkable. The CGI effects around the giants are clearly low-budget and a little shaky, but otherwise, the film looks marvelous. The cool tones of a grayish city and the deep woods around it contrast with the bright colors of Barbara's outfits, emphasizing her separation from the world. The visuals are sharp and striking, fitting for a real-world fairy tale."
However, Johnson also writes that the film is structurally and occasionally visually similar to A Monster Calls which graced screens last year. It remains to be seen whether it can actually climb out from underneath the former's shadow.
The Disaster Artist
Synopsis: The Room might be one of the infamous films in Hollywood history. Frequently cited as the 'worst film ever made' the deliciously weird film has gone on to become a cult classic. In short, The Room is known for its bizarre structure, frequent unresolved plots, terrible continuity editing, and entire scenes which seem to go no where. The Disaster Artist is a film made about the making of The Room based on the memoir of the latter's reluctant lead actor.
Starring: Dave Franco, James Franco, Seth Rogen, Ari Graynor, Alison Brie, Zac Efron, Josh Hutcherson
What are critics saying?: Writing for the official TIFF website, critic Peter Kuplowsky writes:
"What could have been a mean-spirited mockery of one would-be artist's reach exceeding his grasp instead becomes an empathetic character study that is guaranteed to tear midnight audiences apart with uproarious laughter. It is a brilliant comedic portrayal of a Hollywood outsider by a Hollywood insider whose own artistic pursuits have consistently defied easy categorization — and the most sincere veneration of a Z-grade auteur since Tim Burton's Ed Wood."
The Shape Of Water
Synopsis: At the height of the Cold War, the mute Elisa works as a janitor at a US government laboratory. One night, a strange, amphibious creature is wrangled into the facility. Elisa is more fascinated than frightened. What scares her more is the threat posed by the federal agent in charge. Cruel and self-serving, he seems convinced the surest way to handle the mysterious creature is to kill it. With the help of her neighbor Giles, her co-worker Zelda, and a sympathetic scientist, Elisa hatches a plan to save the creature's life, at the risk of her own.
Starring: Sally Hawkins, Michael Shannon, Richard Jenkins, Doug Jones, Michael Stuhlbarg, Octavia Spencer
What are critics saying?: Guillermo Del Toro can always be relied upon for a classic. According to the majority of critics who've seen it, that's exactly what this one is. Angie Han for Mashable writes:
"The Shape of Water is beautiful inside and out. It looks gorgeous: it's designed and shot in such a way that it feels like it's in danger of slipping into a reverie at any moment… And it sounds lovely, thanks to a dreamy score by Alexandre Desplat.

"But it also has a beautiful soul. The Shape of Water is achingly tender and humane, and entirely earnest about everything it's trying to do. (It's also not very subtle, but at least it earns its metaphors.) It's what makes the romance of The Shape of Water feel so intense – the elation of true love is untouched by cynicism or snark."
Darkest Hour
Synopsis: When Prime Minister Neville Chamberlain is forced to resign less than a year into the war, Churchill is selected as his only viable replacement despite his controversial career. With British resources dwindling, France having already fallen, and the US yet to enter the fray, a contingent led by Foreign Secretary Lord Halifax pushes hard for peace talks with Hitler. Churchill will have none of it, but how do you convince an anxious cabinet, much less an entire nation, to fight what may well be a losing battle?
Starring: Gary Oldman, Kristin Scott Thomas, Lily James, Stephen Dillane, Ronald Pickup, Ben Mendelsohn
What are critics saying?: Both the director, Joe Wright and main star Gary Oldman have been given serious applause. Adam Chitwood for Collider writes:
"Historical dramas are nothing unique, nor particularly are World War II movies. But when you combine one of Gary Oldman's best performances ever and the always-interesting filmmaker Joe Wright with these two tried and true genres, you get something positively electric."
The alright ones:
I Love You, Daddy
Synopsis: A black-and-white film made entirely in secret with no studio involvement. Not exactly a guaranteed recipe for success. Then again, I Love You, Daddy comes from Louis C.K a famously gifted comedian. The film stars C.K as a TV producer who looks up to a famous director. He is confident that one must separate art from life, especially in light of rumours that his hero has abused young girls. However, this notion is challenged when C.K's character's daughter starts to hang around with the director. The film is self-consciously a take on the allegations faced by Woody Allen, as well as those met by C.K himself.
Starring: Louis C.K., Chloë Grace Moretz, John Malkovich, Rose Byrne
What are critics saying?: Sam Adams of Slate gave the film a fair to middling review, concluding:
"It's also not quite a fully formed movie, more like a series of scenes clustered around a loose set of thematic concerns. It's also less provocative than it is tiresome, rehashing an already entrenched debate rather than framing it in a new way. Malkovich is great, especially as a foil to C.K., meeting his frenzied, incoherent moralizing with leisurely ripostes and frank admission of his own perversions."
mother!
Synopsis: A young, pregnant woman busies herself in a vast, unfamiliar house, trying to renovate it into submission. Her new, older husband is a brilliant author. They love each other deeply, so why are their days so fraught with tension? Why do small misunderstandings seem to pile up? Why do these newlyweds on the verge of welcoming new life into the world seem about to tear each other apart? Eventually, an ever-increasing series of guests start to show up at their door, and the husband refuses to send them away, despite the woman's obvious distress.
Starring: Jennifer Lawrence, Javier Bardem, Ed Harris, Michelle Pfeiffer, Domhnall Gleeson, Brian Gleeson, Kristen Wiig
What are critics saying?: Whether or not you'll enjoy this seems to depend on your expectations are. Then again, reading some reviews, it might also depend on how much pretension you can put up with. Owen Gleiberman of Variety notes:
"There's an abstract audacity to "mother!" The film's horror plays off everything from the grabby hordes of celebrity culture to the fear of Nazis and terrorists to — yes — what it means to be a mother (complete with the world's most ironic exclamation point). All of that makes the film seem ambitious. But it also makes it a movie that's about everything and nothing… Toss in a twist ending worthy of M. Night Shamyalan (a good or bad thing? Maybe both), and you've got a head-trip horror movie with something for everyone — except, perhaps, for those who want to emerge feeling more haunted than assaulted."
Thelma
Synopsis: Thelma focuses on a timid young woman who leaves her rural home to study in Oslo. There, she finds love for the first time. But her relationship is complicated by her family's oppressive meddling, their seemingly fundamentalist religious beliefs, and, possibly, her unique ability to shape and affect her environment. When Thelma is upset or agitated, strange things seem to happen.
Starring: Eili Harboe, Kaya Wilkins, Ellen Dorrit Petersen, Henrik Rafaelsen
What are critics saying?: Thelma is proving very divisive to the critics who've reviewed it so far. David Ehrlich for Indiewire says:
"Thelma's story sticks to your bones like a shiver, and sinks deeper for days after the credits have rolled. Her hollowness gets filled in as the body count starts to rise, Trier revealing her dormant power, scooping out her purpose, and inviting each viewer to fill it in with their most uncomfortable impulses."
Meanwhile, Ethan Vestby of The Film Stage says:
"Thelma plays like a Wachowski sisters or M. Night Shyamalan movie minus any of the earnestness or fun. Too stepped into the portentous withholding art film sphere, the experience of watching it just begins to feel like gradually waiting for some kind of reveal involving murder or abuse, the tenet of too many modern European and American films."
The Cured
Synopsis: What happens after a zombie plague has been contained and cured, and those once infected attempt to reintegrate into society? Senan has been through hell. When the plague swept across Ireland he was among the thousands afflicted and rendered into rabid ghouls. Senan did horrible things he cannot forget — and neither can the public. Senan's sister-in-law Abbie, however, is willing to give him a second chance. She lets him live with her and her young son, believing that Senan's actions while infected were beyond his control. But as an angry anti-cured movement burgeons in tandem with an increasingly radicalized pro-cured movement, Abbie is forced to question just how far her trust should be pushed.
Starring: Ellen Page, Sam Keeley, Tom Vaughan-Lawlor
What are critics saying?: Hollywood Reporter writer Jordan Mintzer says:
"(The Cured) does a better job at scaring us than at making us think, with… flashes of ear-shattering violence to show Senan remembering what life was like before he was cured. They're classic jump-out-of-your-seat moments that rely a lot on heavy sound effects, but they manage to be effective, building toward an explosive third act that brings the pain in the manner of 28 Days and other stalwarts of the genre.

"Performances are strong… Everyone is extremely serious, which can be a bit of a drag at times, but as a study in trauma The Cured has its moments and the film plays best when it remains intimate."
I, Tonya
Synopsis: In 1994, the figure-skating world was rocked by a brutal attack on US medal hopeful Nancy Kerrigan. The more shocking news was that the attack was allegedly conceived and executed by those close to — and perhaps including — rival figure skater Tonya Harding. You might expect to see a film about Kerrigan, her triumphant recovery, and her silver medal at the Lillehammer Olympics, but that's not the story we get here. This is Tonya's story.
Starring: Margot Robbie, Sebastian Stan, Julianne Nicholson, Paul Walter, Hauser Bobby Cannavale, Allison Janney
What are critics saying?: In general, I, Tonya has received mostly middling reviews. However, much praise has been heaped upon Margot Robbie and Allison Janney's performances. Katey Rich of Vanity Fair writes:
"The film is not as obvious an awards play as much of the TIFF lineup, with its commitment to dark comedy and lack of clear resolution. (Its message might best be summed up as "Fuck you, I'm still here.") But I, Tonya features two powerful performances that should continue to drive conversation: those of Robbie, who may be showing us her remarkable power only four years after breaking out in The Wolf of Wall Street, and Allison Janney, who leaps fearlessly into a character as direly unsympathetic as any movie villain, then makes her hilarious."
The bad ones:
The Current War
https://www.youtube.com/watch?v=wMECv6yLOFM
Synopsis: Thomas Edison knew he was a genius — and he made sure everyone else knew it, too. In 1879, he and his team conducted the first successful light bulb tests. But the broad distribution of electricity posed a daunting challenge. Edison was convinced that direct current was the superior system. Entrepreneur George Westinghouse, Edison's less flamboyant competitor, had a different idea.
Starring: Benedict Cumberbatch, Michael Shannon, Nicholas Hoult, Tom Holland, Katherine Waterston, Tuppence Middleton, Matthew Macfadyen
What are critics saying?: Biopics are usually a shoe-in for Oscars nominations, but this film about electricity seems to have failed to enthrall critics. David Edelstein for Vulture writes:
"Apart from… nutty camera angles and lenses, which throw you out of the action, The Current War is absorbing… it never quite snaps into focus, though… Even with electrocutions and shots in which switches are thrown and towns light up for the first time, it doesn't have the excitement of a good cinematic yarn… While alternating current is a fine principle for lighting the world, movies require a current more direct."
Suburbicon
Synopsis: George Clooney's directorial debut, written by the Coen brothers, is not really what anyone expected. Gardner Lodge is a family man who needs to make an alteration to his domestic situation. He is in love with Margaret, his wife's sister, rendering his wife an inconvenience. Gardner and Margaret hatch a plan to stage a home invasion, get rid of the wife, collect the insurance money, and run away to Aruba. But things get complicated, particularly with the interference of an enterprising insurance investigator.
Starring: Matt Damon, Julianne Moore, Oscar Isaac, Noah Jupe
What are critics saying?: Unfortunately for Clooney, Suburbicon doesn't seem to be going down well. Xan Brooks of the Guardian said:
"It wants us to rejoice in the destruction; to sit back and laugh as the bonfire burns. But Suburbicon is too lightweight and mannered; it lacks proper fury. Watching it is like having your trouser-leg savaged by an energetic small dog."
And Alissa Wilkinson of Vox writes:
"Something in Suburbicon went sideways on the way to the big screen. It makes a run at cleverness, trying to be a dark screwball commentary on America's race problem. But instead it's just a spectacular flop."
Awkward.