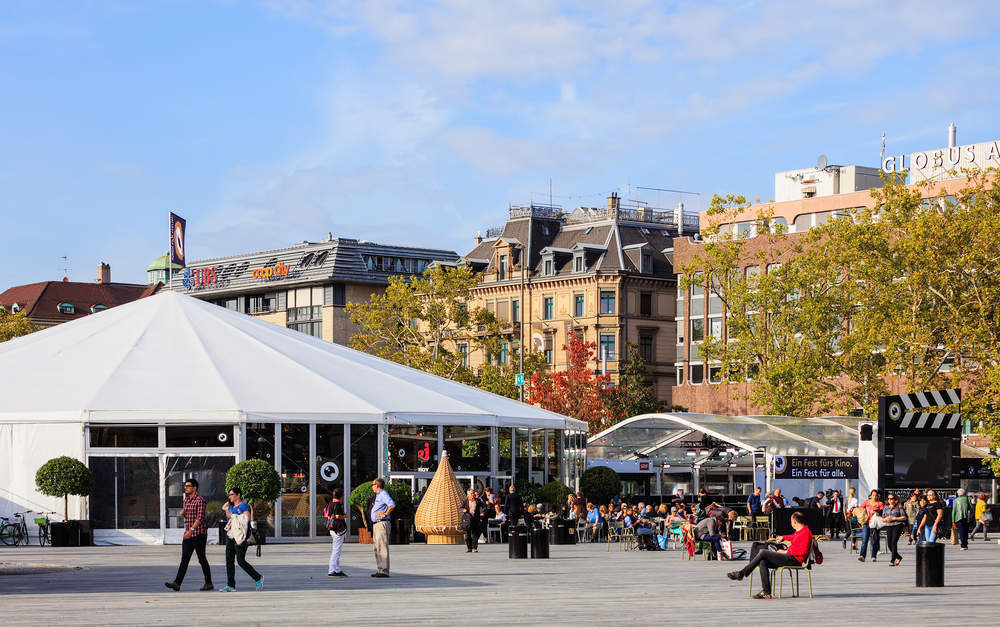 Travel basically anywhere in the world recently and you'll probably stumble across a film festival.
London, Venice, Burbank, Toronto and New York film festivals are just a handful of the ones we've covered so far. And, well, another day, another film festival. Zurich Film Festival began at the end of September and its still running.
As usual, ZFF claims to be the festival for promising new filmmakers from around the world. However, more interestingly, it also claims to be the number one platform for films in the German-speaking market. As ever though, there are plenty of international filmmakers their trading their wares.
We've rounded up all the need to know information about the festival, from where to buy tickets to who is speaking. There's lots of ground to cover so let's hop right into it!
The Zurich Film Festival 2017
When?
The Zurich Film Festival 2017 takes place between 28 September and 8 October.
Where?
ZFF takes place right across Zurich, Switzerland. The following venues will be playing host to the screenings at the festival:
Festival centre Sechseläutenplatz, 8001 Zurich
Kino Corso Theaterstrasse 10, 8001 Zurich
Arthouse Le Paris Gottfried-Keller-Strasse 7, 8001 Zurich
Arthouse Piccadilly Mühlebachstrasse 2, 8008 Zürich
Arena Sihlcity Kalanderplatz 8, 8045 Zurich
Filmpodium Nüschelerstrasse 11, 8001 Zurich
Riffraff Kino/Bar/Bistro Neugasse 57-63, 8005 Zürich
How do I buy tickets?
Tickets can be purchased through the official website. Just go through the programme select the film you want to watch and click 'buy tickets'. Easy peasy. However, many of the films have, unfortunately, already sold out. Then again, that might not necessarily be the end of the world. Purchasing any returned tickets for sold-out screenings is potentially possible 15 minutes prior to showtime! You do this by contacting staff at the ticket desk in the Festival Centre.
You can also buy tickets at the following venues providing they aren't sold out:
all Starticket points of sale
ticket booth at Paradeplatz (12:00 – 19:00)
Cinema Corso (16:00 – 21:00)
ticket booth at Sihlcity (11:00 – 21:00)
Riffraff Kino/Bar/Bistro (16:00 – 21:00)
Festival Centre at Sechseläutenplatz (11:00 – 21:30, on first festival day from 12:00 pm)
Cinemas: Arthouse Le Paris, Corso, Filmpodium (open daily 30 min. before first screening starts)

How much do tickets cost?
Tickets cost different prices depending when you'll be viewing the films. The prices are as follows:
Afternoon (weekdays before 6pm) – 16SFr
Evening (after 6pm and all dayon weekends) – 22SFr
ZFF for Kids Screenings (under-16s) – 9SFr
Gala Premieres – 26SFr
Special Gala – 29-59SFr (Depending on quality of seating)
Golden Icon Award Show – 39-89SFr
ZFF Masters – 39SFr
Are there any experts speaking at the festival?
Yes there are! As you'd expect, there are several talks and screenings with filmmakers and renowned actors. Glenn Close, Al Gore, and upcoming-Tomb Raider star Alicia Vikander are just a few of the big names appearing at the festival. Here's the full list of major speakers, all speaking at Filmpodium:
Alicia Vikander – Actor – 29 September at 15.30
Rob Reiner – Cult Director and Actor – 30 September at 15.15
Glenn Close – Actor and Screenwriter – 02 October at 17.00
Andy Serkis – Motion Capture Star, Actor, and Director – 07 October at 14.30
Al Gore – Politician and Activist – 08 October at 18.15
However, there are also panel discussions centred around some of the films at the festival. All these panel discussions take place at Festivalzentrum – Kubus unten. The talks include:
Between Death, Normality And Healing – centred around the film 120BPM this talk will feature experts discussing HIV and AIDS and how society deals with the issue. – 03 October at 16:00.
An Interview With Moritz Bleibtreu – a panel discussion with famed German actor Moritz Bleibtreu. – 02 October at 12:00.
A Debate On Climate Change – In light of Al Gore's promotion of his new film, An Inconvenient Sequel: Truth To Power, this will be a discussion about climate change with researchers from the ETH and University of Zurich – 06 October at 16.00
What else is there to do (aside from watching films)?
After covering films, stars, talks, and panel discussions, and we've barely scratched the surface. There's still more stuff going on that we haven't got to yet!
First of all, there's the International Film Music Competition. 189 composers from 38 countries took part in this year's competition to score for symphony orchestra Erhan Yürük's five-minute short film Tamah. The five best will perform their pieces, before judges crown a winner. The second half of the evening will see the Tonhalle Orchestra, conducted by Frank Strobel, and the incredible singer Tertia Botha, perform soundtrack highlights from the James Bond films.
There's also a series of VR short films. The films are being shown at Flux Laboratory in collaboration with ZFF are in sets. Firstly, there's the 360 degree documentary series, Real World. Then there's the realistic drama series, Family Affairs. And finally there's Beyond Reality a series which will take viewers underwater, to outer space, and into mystical worlds using VR. All the films series mentioned are free, however, one must pick up tickets from the Festival Center. The VR experiences will be available every day throughout the festival except 4 October.
Furthermore, there's a range of after-parties and side events from parties to 'movie cruises' which can all be found here.
In conclusion, there's plenty to see and do at this year's Zurich Film Festival, so if you find yourself in Switzerland, why not head down?